Countryfile puts the focus on hop growing at Hogs Back Brewery
September 2016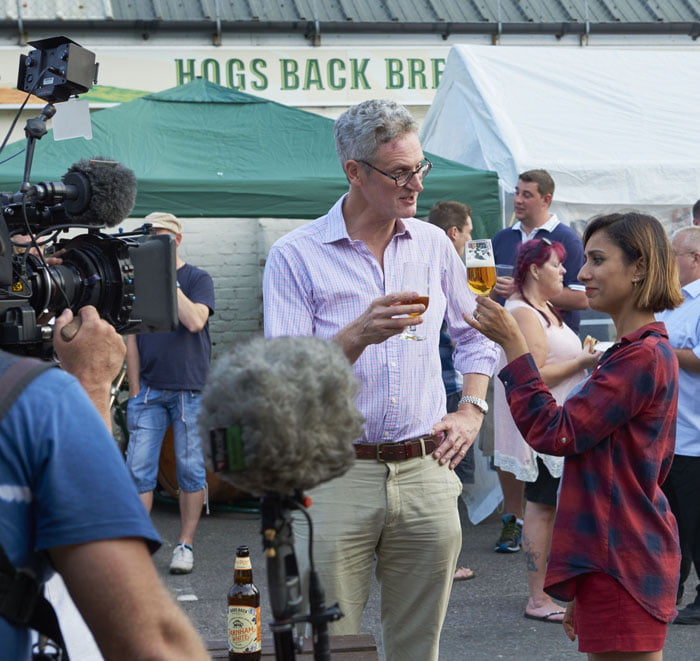 The award winning Hogs Back Brewery hop garden is to feature on the BBC's Countryfile programme.
Presenter Anita Rani visited the garden and brewery in Tongham as part of a programme looking at the hop growing heritage of the Farnham area of Surrey, and the revival of Farnham White Bine hops.
The popular Sunday night show also filmed at the nearby Hampton Estate in Puttenham. One of the last commercial hop growers in the area, the estate is now expanding the acreage devoted to Fuggles hops as the boom in craft beer drives demand.
In Tongham, Hogs Back Brewery managing director Rupert Thompson and hop garden manager Matthew King were both interviewed. Hop historians and locals also came to the brewery to share memories of Farnham's hop growing heyday on camera, and the day's filming ended with a celebration of the Hop Harvest organised for members of the Tongham TEA Club, the Hogs Back Brewery's official members club, named for their flagship beer.
Thompson said: "We were delighted to welcome Anita and the Countryfile team to Tongham just as our second harvest was beginning. The return of Farnham White Bine in the Hogs Back Brewery hop garden is a great example of tradition and innovation working hand-in-hand.
"Growing our own hops improves the sustainability and traceability of our beer, and the direct link between the hop garden has allowed us to learn a lot more about hops, making us better brewers.  It also redefines local brewing as being not just about proximity, but also about really local sourcing and involvement with our famer suppliers.
"No one else is growing Farnham White Bine, and its historical importance to the area, as well as the popular local reception to its reintroduction, is a story we're sure Countryfile viewers will find fascinating."
Hogs Back planted the hop garden in 2014, with the first harvest in September 2015. The three varieties of hop grown are:
Fuggles: the classic English balanced bittering and aroma hop;
Cascade: grown mainly in the USA and famous for its citrus/grapefruit aroma, something which seems to have been retained at Tongham;
Farnham White Bine: The 'lost' hop variety which was the precursor to Goldings, and which has been revived at Hogs Back Brewery. It has floral, spicy, and earthy flavour characteristics.
Thompson adds: "Terroir is as important to brewing as is to wine-making, and we're finding the characteristics of our home-grown hops brings something unique to our beers."
The hop garden initiative has won accolades including the British Beer & Pub Association's Grain-to-Glass Award 2015 recognising the brewer's commitment to sustainability and local community engagement, and the Society of Independent Brewers' Business Innovation Award.
The Countryfile programme will be broadcast at 18.15 on Sunday, 2 October.
-ends-
NOTES TO EDITORS
Hogs Back Brewery was founded in 1992 in Tongham, Surrey, in the heart of the traditional Surrey hop growing area.
Its flagship brand TEA, or Traditional English Ale, is the leading independent ale in Surrey and increasing in popularity elsewhere. According to CGA Brand Index figures for the year to September 2015, TEA was the third biggest craft beer brand in volume growth terms in the on-trade, behind Brewdog Punk IPA and Goose Island IPA, and saw the biggest growth of any cask ale brand.
The Hogs Back Brewery range includes a number of award-winning draught and bottled beers. Recent launches include Hogstar English Craft Lager and Montezuma's Chocolate Lager, both demonstrating Hogs Back's ability to combine brewing expertise and tradition with product innovation to create distinctive, memorable beers. Hogstar won a Gold award at the Society of Independent Brewers' National Keg Beer Competition 2015. In 2013, Hogs Back also launched a traditional cloudy cider, Hazy Hog.
In September 2015 Hogs Back Brewery harvested the first hops from its own hop garden on a 3.5 acre plot adjacent to the brewery, bringing the traditional but near-extinct Farnham White Bine hop variety back to its Surrey home. Once fully mature, the hop garden will provide 25% of the brewery's hop requirements.
Hogs Back Brewery is growing its presence in both the on and off trade.  Customers include Sainsbury's, Waitrose, Lidl, Majestic Wine, JD Wetherspoon, Mitchells & Butlers, Greene King and Spirit Pub Company.
Issued on behalf of:    Hogs Back Brewery
Further information:    Ros Shiel: ros@shielporter.com / 07841 694137
John Porter: john@shielporter.com  / 07734 054389