Sekforde Drinks challenges dominance of the G&T
May 2017
New bespoke mixer features lighter flavour to complement craft gin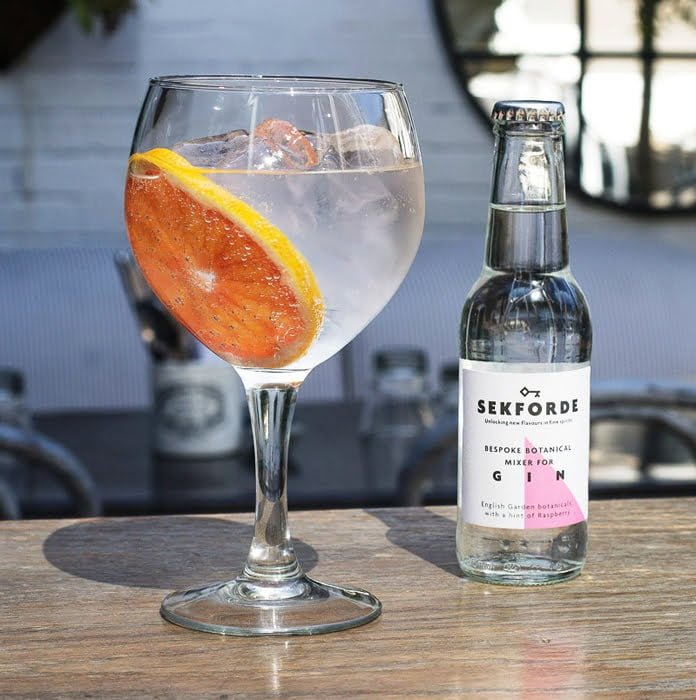 Start-up drinks company Sekforde Drinks is challenging the dominance of the gin and tonic with the launch in June of a new bespoke mixer that brings out the botanical flavours of craft gins rather than masking them in quinine and sugar.
Sekforde for Gin is an all-natural blend of English garden botanicals. Raspberry, sage and rose extracts give it a soft, natural sweetness, complementing the intense flavour of the juniper which gives gin its unique taste.
The launch of the gin mixer takes the Sekforde range to three, following the successful launch of Sekforde Rum and Whiskey mixers at the start of 2017. Each lightly carbonated 200ml serving has fewer than 40 calories per bottle, meaning customers stay under 100 calories with a standard spirit single and under 150 calories with a standard double – less than a large glass of wine or a pint of beer. The mixers also come in well below the proposed sugar tax threshold, with no artificial sweeteners, flavours or preservatives.
Sekforde Drinks founder Talula White says, "We were being asked when we would launch a gin mixer even before the launch of our first two varieties. I've never been a big gin drinker, mainly because I'm not a fan of bitter quinine, which is often balanced by sugar, in tonic waters. It turned out this was holding other people back from making the most of the craft gin renaissance too."
Once again, Talula's husband Tom began experimenting with flavour combinations, looking not just at the juniper character, but other botanicals typically found in gin, such as cassia, coriander, cardamom and citrus.  When combined with gin, the rose and raspberry extracts create a drink with a light, crisp character, merging seamlessly into the flavours of sage and other botanicals in the Sekforde. 
White says: "Sekforde with Gin is every bit as refreshing as a G&T, without the overpowering quinine and sugar flavours. It's a way for the growing number of gin drinkers to enjoy their favourite spirit, appreciating the quality and variety of its botanical ingredients. As with our rum and whiskey mixers, it's all about enhancing the flavour of the spirit rather than drowning it."
She adds: "More than 100 new distilleries have been licensed by HMRC in the past two years alone and the Wine and Spirit Trade Association reports that gin continues to see double-digit sales growth in the on-trade. We think the time is ripe to introduce a new way to drink this increasingly popular spirit."
Owners of The Imperial in Chelsea, Alan Turtill and Kate MacWhirter said: "We are big fans of Sekforde mixers and the new gin variant is a great addition. We are often asked by customers for different ways to enjoy gin and this the perfect way to offer those drinkers a change, as well as being brilliant for those who aren't fans of tonic water. The fact it's all natural and light in sugar also appeals." 
Taking bar staff skills and speed of service into account, Sekforde is as easy to mix behind the bar as a G&T, creating a refreshing long drink in seconds, with the sophisticated profile of a cocktail in a simple serve. Branded glassware and POS promoting the serves are available.
Sekforde rum and whiskey mixers are stocked by a range of pubs and bars including:  Urban Food Fest, Shoreditch; Barley Mow Shoreditch (part of Remarkable Pubs); The Imperial, Chelsea and The White Horse, near Newbury.
Sekforde for Gin: Perfect Serve
•        Sekforde for Gin: Soft sweetness from rose and raspberry extracts counterbalance the piney bitterness of the juniper, offering an evocatively light and fresh characteristic. The dry, leafy secondary flavours from this initial combination merge seamlessly into the sage and other botanicals in the Sekforde, giving a cool and subtle backdrop to enjoy the finish of the gin in a way which is simply impossible with a standard tonic. Serve over ice, with a twist of grapefruit or lemon and a sprig of rosemary or sage.