Cafeology flies high with European award for Bird Friendly coffee
November 2016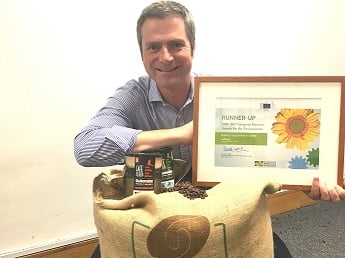 Ethical beverage company Cafeology has been recognised at a Europe-wide Awards scheme for its innovative Bird Friendly coffee initiative in Guatemala.
Cafeology was named runner up in the Business & Diversity category within the European Business Awards for the Environment, which is given to a product or service that 'makes a significant contribution to halting biodiversity loss and supporting natural ecosystems'.  It was the only UK company to reach the finals of this award, open to businesses from across Europe.
Cafeology is the first UK company to supply a Bird Friendly coffee. The beans are grown by coffee cooperative Asociación Civil Guaya'b, close to Guatemala's border with Mexico, under a high altitude canopy of diverse trees. This provides a habitat for birds, protects the rainforest and produces a superior quality, denser bean with a unique taste.
Bryan Unkles, founder of Cafeology, said, "I learned about the destructive effect some coffee farming was having on the natural habitat while visiting our central American growers.  With Cafeology's core principle of 'great coffee, great cause' in mind, we looked at ways of addressing this, which resulted in the launch of our Bird Friendly coffee in 2014.
"Ours is the only coffee in the UK with Bird Friendly certification from the Smithsonian Migratory Bird Centre in Washington DC, which is considered the gold standard for shade-grown coffee.  It was also the first coffee to be endorsed by the RSPB, who receive a donation from the sale of every tin.
"We're delighted that both our product and our campaign to raise awareness of the need for more sustainable coffee farming, have been recognised at these prestigious European awards."
The latest award follows similar accolades for Bird Friendly coffee in the UK last year, when Cafeology was presented with a Guardian Sustainable Business Award and reached the finals of the RSPCA's 'Animal Hero' Awards.
Unkles added, "Coffee is the second most-traded commodity after oil and, around the world, is drunk an estimated 30,000 times every second. As the UK's demand for coffee continues to grow, we have a duty to think about our consumption and how we can minimise any harmful effects on the tropical rainforest and its biodiversity."
Cafeology's Bird Friendly coffee is a single estate, 100% organic Arabica coffee with a smooth taste and medium body.  It is available to food service operators in 1kg bags of roast and ground coffee, or roasted coffee beans.
Cafeology supports its food service customers with a comprehensive range of dispense equipment, maintenance, eye-catching Cafeology branded crockery, menus and other POS, and a number of barista training courses.
Notes to editors
Cafeology
Cafeology was founded in 2003 by Bryan Unkles with the aim of delivering 'exceptional, ethically sourced products selected by taste and sourced directly through long term relationships.'
The company, headquartered in Sheffield supplies coffee, tea and chocolate to retail and food service customers in the UK and Ireland.
Cafeology has unique direct supply agreements in place with coffee producers in central and south America. It chooses its partners carefully and takes pride in developing long term relationships with them.
Bird Friendly Coffee
Asociación Civil Guaya'b is a cooperative of around 300 indigenous farmers in Huehuetenango near the Mexican border. They follow growing and organic farming conditions that are third-party certified to standards created by the Smithsonian Migratory Bird Centre with strict requirements on tree height and diversity, foliage cover and canopy structure to help protect the rainforest habitats of resident and migratory birds. These include the Resplendent Quetzal, which is at risk due to habitat loss, as well as a multitude of migrant birds which spend their winters in Central and South America.
The success of Bird Friendly certified coffee is measurable. Research by the SMBC in Peru shows that while a sunny plantation harbours just 61 species of birds, this number jumps to 243 when coffee is cultivated under a canopy of 10 tree species or more.
Farmers must be re-certified every three years in order to retain their Bird Friendly status. Meanwhile, the premium prices they obtain for their product is invaluable in supporting their families and boosting local economies.
The replacement of traditional shade-grown methods for sun-grown has risen steeply in recent decades due to economic pressures that have forced farmers globally to increase the yield of coffee plants and individual farms. This 'technification' has resulted in over 2.5 million acres of forests in Central America alone being destroyed in the last 20 years and with it has come a loss of biodiversity in animals and birds living in these habitats.
Data from the Word Resources Institute has also revealed that more than 104 million hectares of the world's remaining Intact Forest Landscapes – an area three times the size of Germany – were degraded from 2000 to 2013.
Some coffee farmers have contributed to this deforestation by cutting down shade-grown plantations to cultivate in the open and applying a range of chemical inputs that help to increase yields. These technified farms are more costly to manage, farmers become dependent on the inputs, and production increases are realised at the expense of habitat and biodiversity. Most coffee available in the UK today is sun-grown with limited shade.