A Second Showdown for Hogs Back Brewery
July 2018
Surrey brewer back on national TV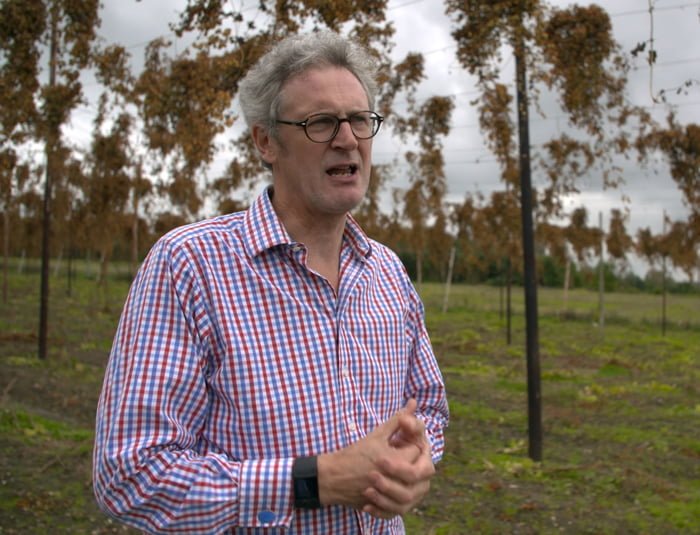 Farnham brewer Hogs Back Brewery is back on national TV this week with a timely repeat of its appearance on BBC One Daytime series, The Farmers' Country Showdown, as the brewer prepares for its hop harvest.
The programme was filmed at the time of the 2017 harvest at the Hogs Back hop garden adjacent to the brewery and was originally broadcast in January. With The Farmers' Country Showdown attracting regular audiences of 1.6m, the new broadcast, at 11.45am on Friday 20 July, comes just as Hogs Back is gearing up for the 2018 harvest.
The episode includes an interview with Hogs Back MD Rupert Thompson, where he talks about the brewery, and in particular its hop garden, as well as footage of the Farnham Food Festival, where Thompson gave a talk on hops. The programme also features local gamekeeper and butcher Jack Smallman.
Thompson said, "We were delighted to welcome The Farmers' Country Showdown team to the brewery, and we're glad there's another opportunity for viewers to enjoy the programme.  The hop garden, which we planted in 2014, is a great example of brewing tradition and innovation working hand-in-hand, and an excellent fit for the series, which looks at a wide range of farmers and producers.
"Growing our own hops, including the Farnham White Bine, a traditional local variety which we have revived, is a great story and we're always happy to tell it again, especially as we prepare for this year's harvest."
The Farmers' Country Showdown celebrates the hard-working, devoted farmers who are the backbone of the rural economy. It illustrates the changing face of farming as well as the traditional ways of working the land they live on. It first screened in 2017 and a second series of 20 x 45-minute programmes was shown this year.
Notes to editors
The Farmers' Country Showdown is produced by Sidney Street Productions, a production company founded in January 2016 by former MasterChef Creative Director, Karen Ross with Endemol Shine UK. It specialises in producing food, factual and lifestyle formats, including the Mary Berry Everyday series for BBC Two.