Peter Spanton Drinks launches two new premium flavours
May 2019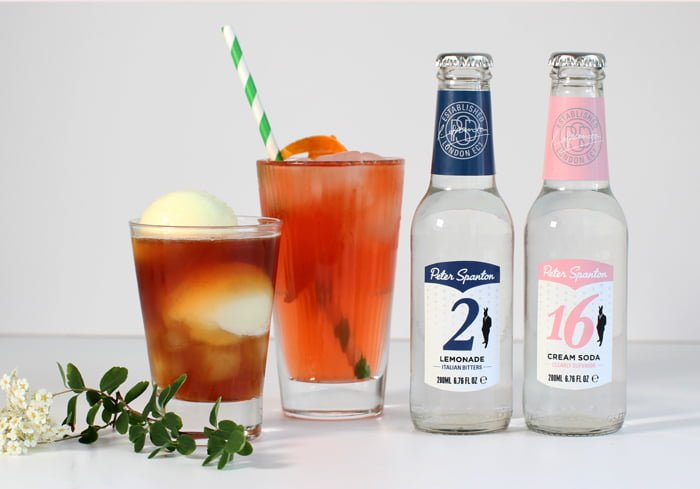 Premium soft drinks producer Peter Spanton Drinks is expanding its range ahead of the key summer sales season with the launch of two new authentic flavours, Peter Spanton No. 2 Lemonade With Italian Bitters and Peter Spanton No.16 Cream Soda.
As with the other varieties in the range, they can be enjoyed alone, as a mixer with spirits, and in both alcoholic and non-alcoholic cocktails. The new launches build on the established success of the drinks range created in 2012 by entrepreneur Peter Spanton, former owner of Vic Naylor's restaurant in Clerkenwell.
Spanton said: "We wouldn't bring anything to market that didn't deliver something different, and these new recipes do exactly that. I initially devised our range because there simply weren't enough genuinely adult non-alcoholic choices, and despite the growth of the market, there is still a real need for distinctive soft drinks choices for consumers and operators."
• Peter Spanton No. 2 Lemonade With Italian Bitters is described by Spanton as "more Talented Mister Ripley in style than the sugary kids' soda everyone knows. The flavour is inspired by the romance of the Riviera, and is a homage to Italy's aperitivo culture." It can be enjoyed served simply with a slice of orange, or pairs well with a premium vodka. Tasting notes: Combines the fizz and punch of sharp sherbet lemons with the oily swagger of a fine negroni. Refreshing Sicilian lemon in the mouth subsides into warmer, richer aromatics on the nose.
• Peter Spanton No.16 Cream Soda is a reimagining of the classic cream soda, originally patented as a temperance drink in Vienna, New Jersey in the 1850s. "It has a really sensual mouth feel and rich flavour, capturing the spirit of sultry summers," said Spanton. As well as working very well on its own, it mixes superbly with American Whiskey. Tasting notes: Soft, rich, buttery bubbles fill the mouth with vanilla and cream. A refreshingly rich quencher, as satisfying as the first ice-cream of summer on a warm pebbly beach.
Spanton adds: "Consumers are seeking out authentic flavours, and they want to know that there's a genuine story behind their drink. Alongside a classic cocktail or spirit-and-mixer serve, they increasingly expect a soft drink to deliver the same premium, engaging experience, without leaving them feeling that a non-alcoholic choice is second best."
The two new products bring the core Peter Spanton Drinks range to nine, and are available in 200ml glass bottles in cases of 24. For more information see www.peterspanton.com email sales@peterspanton.com or call 020 3763 5665.