Hogs Back launches London's Outback
April 2016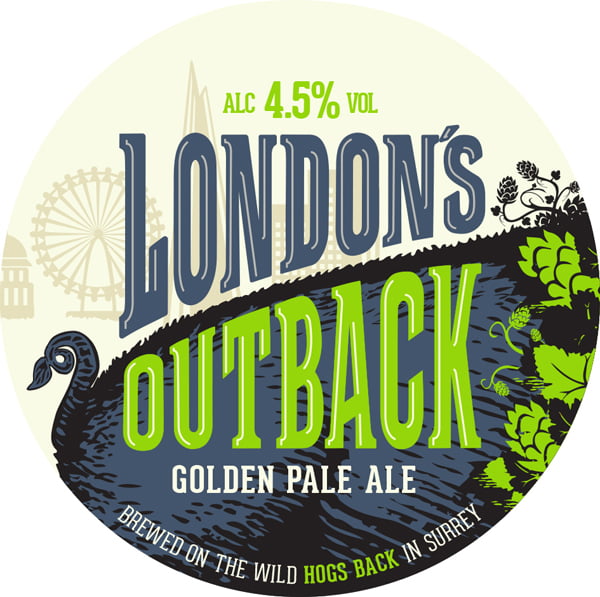 Hogs Back Brewery is launching a new beer, London's Outback Golden Pale Ale, which has been listed by 114 Mitchell & Butlers 'Castle' pubs, with further distribution to follow.
London's Outback is a 4.5% ABV golden ale with a drier, hoppier taste. It is brewed using Cascade, Centennial and locally grown Fuggles hops, and has a light body with well-balanced hoppy and citrus flavours.
Available in kegs, the new brew expands Surrey-based Hogs Back's stable of quality draught beers including Hogstar English Craft Lager and Montezuma's Chocolate Lager, alongside its flagship TEA Traditional English Ale. Hogs Back plans to include Cascade and Fuggles hops from its hop garden adjacent to the brewery in London's Outback after this year's harvest.
Hogs Back Brewery managing director Rupert Thompson said, "London's Outback offers the hoppiness that many craft beer drinkers look for, but with a lighter taste than traditional IPAs. This is a style where we're seeing growing consumer demand and we're confident Outback will quickly win listings and drinkers in both traditional pubs and newer craft beer bars."
He added, "We brew on the Hogs Back ridge in Surrey from where, on a clear day, you can see London. So, although one could hardly call Surrey remote, we feel we are living on the wilder side of the capital, in 'London's Outback'."
The reference to London in the new beer's name is indicative of Hogs Back's growing presence in the capital as the brewer expands beyond its Surrey heartland. In addition to listing London's Outback, Mitchells & Butlers have also put Hogs Back's Montezuma's Chocolate Lager and Hogstar English Craft Lager into 70 Castle sites in London. Hogstar recently became the first Hogs Back beer to launch in cans, alongside bottle and keg formats.