Celebrate Christmas with a local beer, says Hogs Back Brewery
December 2018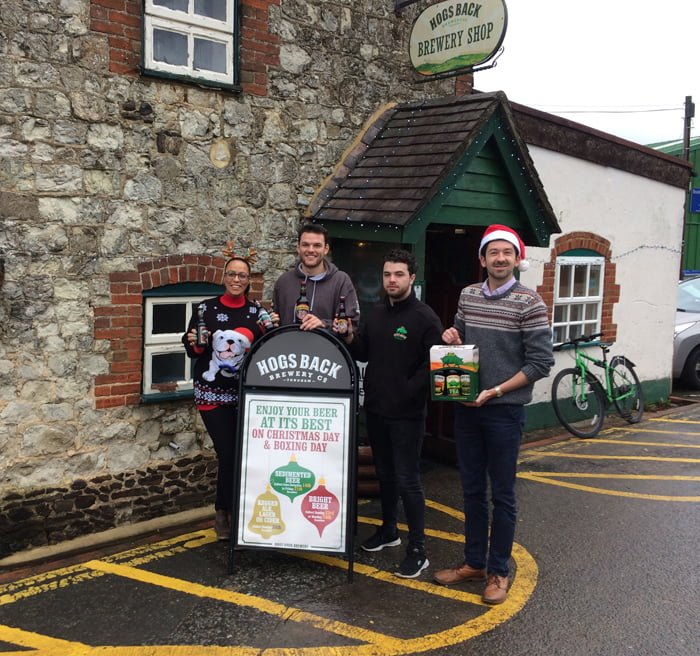 Hogs Back Brewery is encouraging beer lovers to give both themselves and their local brewer a Christmas bonus by enjoying locally brewed beers across the festive season.
The brewery, based in Tongham, Surrey, has decked the halls and rolled out the barrel as it prepares to welcome both year-round and once-a-year regulars to the Brewery Shop.
Rupert Thompson, managing director of Hogs Back Brewery, said, "Just as people who shop at the supermarket all year round will buy their Christmas turkey from the local Farm Shop or Farmer Market, we also a see an upturn in customers supporting their local brewer during the festive season.
"Thanks to our hop garden, which we're almost tripling in size, we're very much a part of the local farming community. Beer is an artisan product made from natural ingredients, and an essential part of the Christmas tradition in Britain.
"The festive break will be a long haul this year, with many people celebrating from the weekend before Christmas right through to the New Year, and we certainly think there's scope to ring the changes and swap a bottle of plonk for beers matched to festive fare on some occasions across the holiday.
"Our seasonal beer Advent Ale, 4.4% ABV, has wonderful smoky and roasted malt flavour, with a rich dark chocolate aftertaste, and should definitely be enjoyed in front of a roaring fire with a mince pie or two."
For Christmas food and drink matching, Thompson suggests:
• Smoked salmon matched with Hogstar English Craft Lager (4.5% ABV): Brewed with five different hops and a blend of botanicals and matured for a month, Hogstar has a depth of flavour and natural carbonation that work well with smoked salmon or other seasonal seafood dishes;
• Christmas dinner matched with TEA (4.2% ABV): Refreshing but robust, the malty flavour of Hogs Back Brewery's flagship ale makes it the perfect partner to a turkey dinner with all the trimmings;
• Christmas pudding with OTT (6% ABV): This strong, dark beer was enjoyed by the British Guild of Beer Writers at their 2018 annual awards dinner served with sticky toffee pudding. Its distinctive, complex aromas and taste make OTT an ideal pairing with rich desserts;
• Festive buffet with Outback Pale Ale (4.5% ABV): The refreshing light and hoppy flavours make Outback a great drink to serve with sausage rolls, creamy vol-au-vents, pork pies and other buffet food.
At its most popular time of year for visitors, Hogs Back is offering additional brewery tours in December, while Christmas Eve will feature carols with the Friary Brass Band from 11.30am – 1pm, with mince pies for all. With extended opening hours in the run up to Christmas, the Brewery Shop is a great one stop shop for festive beer, with knowledgeable staff on hand to offer advice, and free parking outside.
See the website www.hogsback.co.uk for details and opening hours.
Caption to attached image: The Hogs Back Brewery team ready to welcome customers to the brewery this Christmas. Pictured left to right are Donna Wilson, Joel Swan, Kane McAdoo and Jonathon Mileman.