World's Biggest Pub Quiz returns in March 2019
December 2018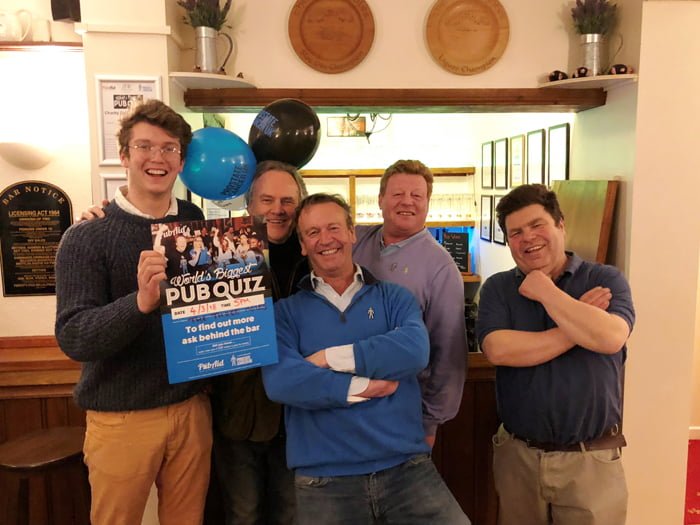 Pubs, bars and clubs are being urged to reserve a date in their diaries between 3-7 March next year for the World's Biggest Pub Quiz – a fundraising initiative organised by PubAid to raise money for charities, including their official charity partner Prostate Cancer UK.
The inaugural World's Biggest Pub Quiz took place in 2016, and it has since grown in size and popularity. In 2018, 1,500 pubs took part raising £190,000, making up the impressive £405,000 that the three quizzes have raised in total.
Landlords and licensees will receive a free quiz pack on registration, including two sets of quiz questions, posters and social media assets to encourage customers to come along and join in.
Co-founder of PubAid, Des O'Flanagan, said: "This is a busy time for licensees as they focus on the festive season. However, most pubs won't be this busy in early March, so it's a good idea to start planning events that will encourage customers to visit in that quieter time.
"The World's Biggest Pub Quiz has proved to be popular amongst customers and licensees: it's a lot of fun and easy to host. It takes only minutes to register for the quiz online, and it's completely free. Find a slot for it in your pub's diary and we're confident you'll draw a good crowd and raise money for a worthy cause at the same time."
The World's Biggest Pub Quiz is scheduled for 3-7 March 2019, but the organisers stress that this window is a guideline, not a requirement. Pubs who want to take part but can't run the quiz during that week are welcome to run it at any other time in 2019. Each pub is free to choose a charity of choice to support, and those unsure are encouraged to raise money for official charity partners, Prostate Cancer UK.
O'Flanagan added: "We're grateful to all the pubs, brewers and pub groups who have supported the World's Biggest Pub Quiz, and we are confident even more will take part in 2019. It would be great to see more than 2,000 pubs run the quiz and raise more than £250,000 for charity."
James Beeby, Director of Fundraising at Prostate Cancer UK said: "The World's Biggest Pub Quiz has grown over the past three years and we are incredibly grateful to all the licensees and customers who have been involved so far. To be PubAid's charity partner once again in 2019 is fantastic and we want to encourage as many pubs, clubs and bars to sign up and join in the fun!
"By continuing our partnership with PubAid, we can reach even more men with an important health message, and fund vital research to help stop prostate cancer from killing one man every 45 minutes."
Quiz packs will be sent in early 2019 to all pubs registering at www.worldsbiggestquiz.pubaid.com.
Caption to attached image: winners of the World's Biggest Pub Quiz 2018 at the Three Moles, Selham, West Sussex