Oliver Kay expands sustainable packaging
January 2019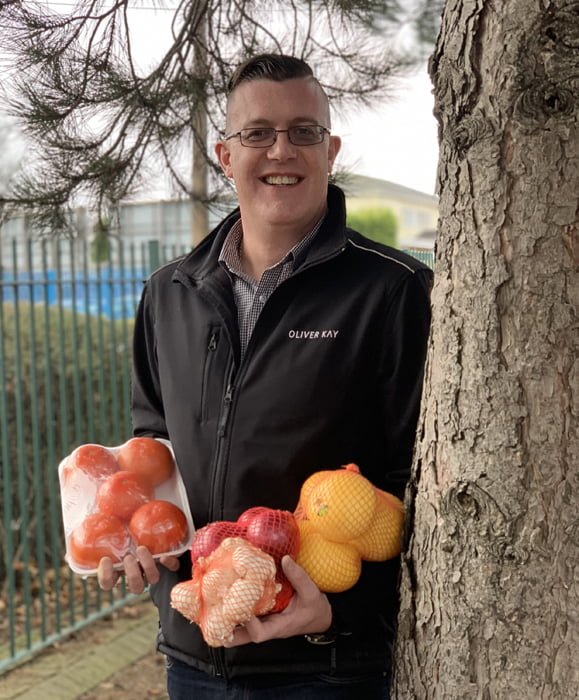 Hospitality greengrocer Oliver Kay Produce is helping its customers to reduce waste with a new sustainability initiative making 80% of its packaging recyclable. The business, which supplies fresh fruit and veg to more than 3,500 chefs around the UK, is also converting waste produce from its warehouses into compost.
Oliver Kay has become the first catering greengrocer to replace polystyrene trays used to deliver produce with compostable trays made from sugarcane, and plastic nets for fruit with compostable netting made from beechwood. It has also introduced 100% recyclable plastic wrap for its deliveries.
The business, part of the Bidfresh group, has installed an automatic screw press process in its Bolton warehouse, which removes the water from fruit and vegetable waste to reduce the density of the load by 90%, leaving only organic waste behind. The resulting compost can be collected by farmers delivering goods to Oliver Kay, to use on the fields growing the veg.
"A business of this type and size obviously generates packaging and food waste," says Paul Leyland, Commercial & Sustainability Director for Oliver Kay. "Deliveries come in to us in cardboard boxes, and we then separate and re-pack to send out to our customers." Oliver Kay receives the equivalent of 10,000kg of cardboard boxes each day across its three sites, "and through our strict quality standards and prep department we produce approximately 2.5 tonnes of food waste each day."
In addition to the larger projects in the warehouse, paper and plastic waste used in offices is being separated and recycled, while re-useable drinks containers for staff have removed the need for plastic water bottles. In addition, some surplus produce is donated to local charities and organisations.
The next step will be to upgrade the biodegradable plastic bags used to deliver produce such as peppers and spring cabbage, to a fully compostable or recyclable option.
Leyland adds, "Our aim has always been to minimise our waste, and reuse or recycle any that we do have. The big task is to ensure all our outward bound packaging also causes no environmental damage. Plastic bags are the last item we need to address on the packaging front."
Stephen Oswald CEO of Bidfresh, said, "Paul's enthusiasm and drive to get this project in place has been an example to all in our business and the wider foodservice community. We will be taking his example and rolling it out across the rest of our organisation. We must ensure that all our packaging is compostable in the future".