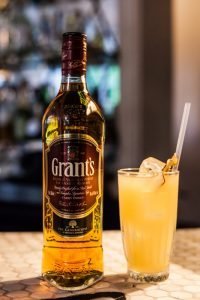 In my defence, I wasn't the only invitee who read "blind tasting" on the email and briefly thought "blindfold tasting". It wasn't, however, a 50 Shades of Grey style sensory encounter that bought us to Islington on a wet Wednesday evening, but rather an event organised by the Grant's Family Reserve whisky brand.
As regular readers know, Scotch is not my top tipple, but I know enough about the whisky market to appreciate that blended scotch has been on a bit of a roller coaster ride in reputation terms over recent years.
Traditionally, the art of the blender was key to the success of a Scotch brand. Take a number of whiskies with distinctive characteristics and put them together to create a blend that delivered the best elements of them all without going to extremes in flavour terms.
The Cult of the Single Malt has turned that view arse-about-face, with today's whisky connoisseur actively seeking out the boundaries of flavour profile, looking for those extremes of peatiness, spice and other flavour characters.
In a quote the appropriately Scottish Miss Jean Brodie, "for those who like that sort of thing, that is the sort of thing they like." In the process, though, it has become fashionable to look down on blended whisky.
However successful the Scotch Whisky industry has been in building its appeal to the Single Malt purists, I'd argue that it has sacrificed some of the accessibility that gave blended brands its broad appeal in the process. That, in turn has created an opportunity for American whisky in particular to strongly build share in the UK market.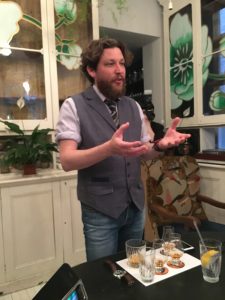 As part of the fightback, the team from Grants kicked off with whisky cocktails, which in itself would have some Scotch purists reaching for their heart pills. Once we were suitably mellowed – and reassured that no blindfolds would be required –  the assembled group of around 10 people was taken through a blind tasting by acclaimed whisky writer Rob Allanson.
We tried three whiskies without being given any details. Drawing on all the experience of my Beer Sommelier training, I carefully appraised the whiskies for clarity, aroma and taste before skilfully picking the wrong one – at least as far as my hosts were concerned. We'd tasted three blends, and while the majority of the group had diplomatically picked Grant's Family Reserve, my finely tuned palate preferred Famous Grouse.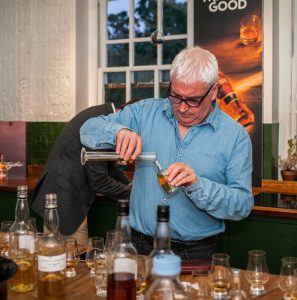 The second stage of the evening, again under Rob's expert tutelage, required us to blend our own whisky. Armed with jars, bottle, test tubes and pipettes, as well as five different styles of base spirit, we set about enthusiastically blending different percentages of peaty, spicy, sweet and fruity to come up with a winning blend.
On the night I was, I'll admit, very happy with my spice-forward blend, which I called 'Spice Trade', and went away armed with a couple of 100ml bottles. However, when I broke these out for some friends at a dinner party a few days later, it has to be said that the response wasn't as universally enthusiastic as I'd hoped. 'Cleaning fluid' and 'antiseptic' were two of the kinder tasting notes.
Fair enough. I have a newfound respect for the art of the master blender. I'll leave it to the experts.