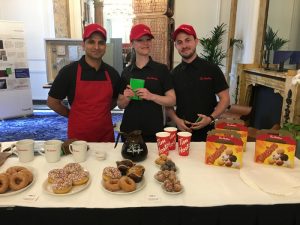 I'm as gung-ho for a cup of coffee and a doughnut as the next man, but Glasgow seems a long way to go from my base in south London. So, I initially noted the news that Canadian café brand Tim Hortons is coming to the UK with a certain amount of detachment; given that the initial store opens in Argyle Street in May.
The fact that I have almost no idea what a Tim Hortons is might also explain my muted enthusiasm, although the huge outpouring of joy on social media at the announcement of the brand's imminent arrival in Canada's mother country suggested I was in a minority. When an invitation arrived to a launch event at Canada House, the Trafalgar Square HQ of all things Canadian, it felt like Tim Hortons was meeting me more than halfway – from either Glasgow or Canada – so it would have been churlish to say no.
I'm not the only one asking,  the world is divided, I discover, into those who have no idea what Tim Hortons is, and those who rave about it. Tim Hortons was founded by its namesake, a professional ice hockey player, as a single site café in Hamilton, Ontario in the 1960s. Today eight out of 10 cups of coffee sold across Canada are served at a Tim Hortons and more than 5.3 million Canadians – approximately 15 per cent of the population – visit the brand daily.
As well as its own blend of coffee, the brand specialises in sweet snacks including bite-sized doughnuts called Timbits, which come in a variety of flavours. On the savoury side, the offer includes blinis, wraps and bagels, with a focus on all-day trading form breakfast through to late night.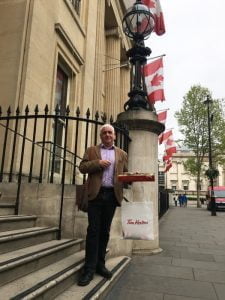 So, on a Monday morning I flashed my Press card at the door of Canada House, negotiated my way through the airport-style security, and joined a group that was equal parts jaded media types and impossibly enthusiastic Canadians. These included the High Commissioner, Janice Charette, who enthusiastically set out Tim Hortons stall for the assembled company.  
"I'm a hockey mom. So sharing it with my kids and my husband, or drinking it in a freezing cold arena at 7am in the morning, those are the kinds of memories I hope will be created by our UK friends as well."
I fell at the first hurdle. I failed to order the signature Double-Double coffee, served with two creams and two sugars which is "just as the Canadians like it" according to the press release, opting instead for a black dark roast. I was called up on my choice by Gurprit Dhaliwal, a director of SK Group, which is working with brand owner Restaurant Brand International on the UK roll out of Tim Hortons. It was, I acknowledge, a fairly pathetic effort my part to plead my waistline even as I chomped through yes another sugar-coated doughnut.
The master plan, Gurprit told me, calls for a minimum of 100 UK outlets once the Argyle Street café is up and running in Glasgow. As well as further flagship sites in major cities, including London, they also expects to see Tim Hortons open in the same neighbourhood, leisure and drive-through sites that have taken the brand into almost every Canadian town and city.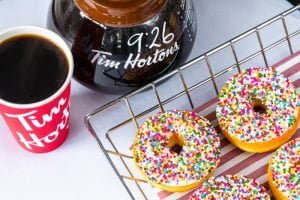 He said: "Flagship stores are important initially, to establish the brand with UK customers, but Tim Hortons is very adaptable. It's an all-day concept from breakfast right through to late evening, so we trade longer hours than other brands. In Canada there are successful 24-hour drive through sites, which we'd also look at here."
The question, for those of us unlikely to be taking our offspring to early morning hockey practice any time soon, is how does Tim Horton fit into the UK market? We have the most developed coffee bar market in Europe, according to specialist analyst Allegra. There are more than 22,000 coffee outlet in the UK generating sales of around £9bn. It's fair to say that home-grown players like Caffe Nero and the Whitbread-owned Costa brand, as well as imported brands with an established foothold, notably Starbucks, won't go out of their way to make it easy for Tim Hortons to establish a foothold.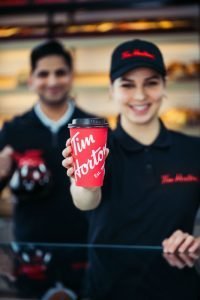 Gurprit told me that the all-day food offer will help to drive the brand's offer, enabling them to start with breakfast and trade right through the day and close later than some of the competition.
You can decide for yourself on Canada Day – July 1, as no one needs reminding – when Tim Hortons is sponsoring a "bring a Brit" event in Trafalgar Square with free coffee and doughnuts for all. Just remember, if you don't have the Double Double, they'll want to know why.