Some years ago, my then-small son came home from primary school and, unexpectedly, asked me "what do you do for a job?" Delighted that he was taking an interest, I explained about journalism and dug out some copies of a number of newspapers and magazines containing articles which bore my byline.
He regarded these with a combination of confusion and disappointment more-or-less guaranteed to break a parent's heart, and simply said: "Oh. I thought you might have been a spaceman." The clear subtext was that he had already informed his classmates that his dad was, indeed, an astronaut, and probably also confidently invited them round after school to take a quick spin around Jupiter in my rocket. His whole demeanour said that frankly, I'd let him down, I'd let his friends down, I'd let the field of space exploration down, but most of all I'd let myself down.
Poor career choices and disillusioned offspring aside, with my own childhood shaped by the Apollo moon landings and the original Star Trek, the wonders of the cosmos have always fascinated me. So, I was very pleased to accept an invitation to the launch of Cosmic Brew, a beer created by Britain's best-known physicist, Professor Brian Cox, in partnership with iconic Manchester brewery JW Lees.
Well, I say Manchester. Brian insists the Greengate Brewery is actually in his native Oldham. "The car park's definitely in Oldham," he assured me. With his granddad having lived a minute or two's walk from the brewery, Brian clearly has a proprietorial feeling about JW Lees that predates his appointment as professor of particle physics in the School of Physics and Astronomy at the University of Manchester, and even his stint with 'The Only Way is Up' pop icons D:Ream.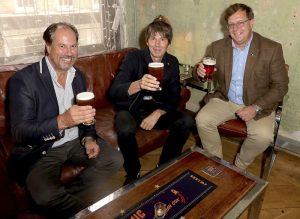 He said: "When I started going to pubs at whatever age that was in the 1980s – probably about 15 – then the (JW Lees pub) Horton Arms was my local. My parents lived about a mile from the brewery and my granddad lived very close, at Middleton Junction. The brewery was something that I saw from the first moment I remember walking around."
Between broadcasting and lecturing commitments, Brian, with the help of JW Lees head brewer Michael Lees-Jones, a sixth generation member of the family to be involved on the business, have come up with the recipe for Cosmic Brew, a zesty amber ale made with British grown Admiral, Jester and Cascade hops.
After a trial on cask in selected pubs, bottled and draught Cosmic Brew will be on sale to consumers generally in January, coinciding with Brian's UK and Ireland arena tour, which will be followed by a planned worldwide tour.
Brian told me: " I never get involved in products, or endorse anything, I just don't think it's my thing. However, I really like the idea of taking a piece of Oldham to New Zealand or Antarctica on my tour."
The science of brewing is, of course, not Brian's core discipline, but he and Michael bonded over the hopsack. Brian said: "We talked a lot about the precise nature of the brewing process, and also had a tasting, which I loved. I know what kind of beer I like, but to be taught how to identify those different tastes and aspects of the beer was instructive. I found it interesting in particular that Michael wanted to use British hops."
Michael added: "Normally if I do a brewery tour, it's about 20 minutes. With Brian, it was about an hour and half. It was really good fun talking about the science side – brewing is definitely both an art and a science. I like supporting British hop growers; a lot of brewers now use imported hops, but we got some fantastic ones, with the same characteristics, but which are more rounded. What we ended up with was an amber ale that tastes like a pale ale, and it's a style that's not already in our portfolio."
The distinctive label helpfully tells us that the beer comes from "Manchester, Earth, Observable Universe. Brian says: "I enjoyed being involved in the branding and design. The pattern of the stars on the label is the view of the night sky looking North over the brewery on the day I was born; March 3rd, 1968. It's what I would have seen had I looked out of the window. There's a fact for the pub quiz."
In terms of flavour, Cosmic Brew is said to have a lemon, tropical and sweet aroma, with a crisp citrus and white grape flavour. I won't argue with my old friend Michael, but to that I'd add some distinct pepper and spice notes from the hops, giving the beer a real depth of flavour. I'd match this with Lancashire's rich hotpots and tangy cheese – and as Michael says, "beer really goes with all food."
At 3.9% ABV, Cosmic Brew is also a very sessionable beer. "If it's on sale at my shows, they're going to drink it at the interval, and I do the hard stuff in the second half. If it was 6%, the audience wouldn't understand the general relativity theory," observes Brian.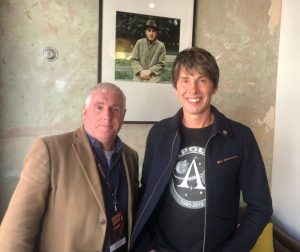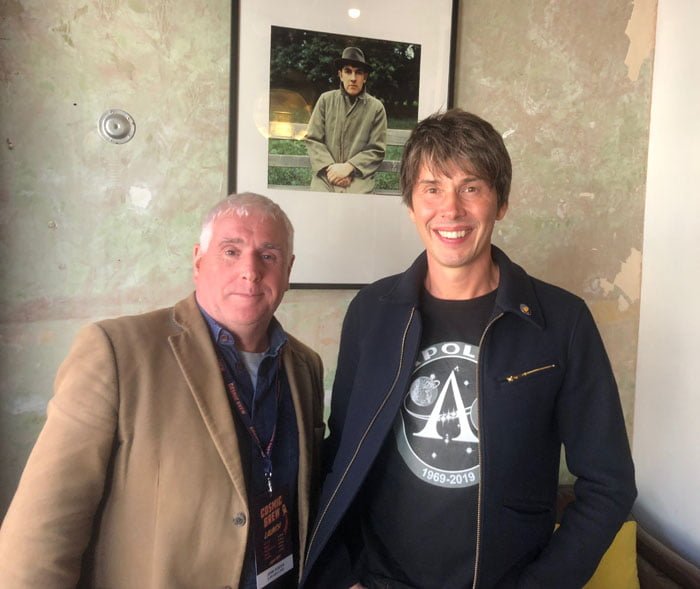 So, has Prof Cox got the brewing bug? Can we expect a Stellar Stout or Lunar Lager to follow? "No, this is the sort of beer that I drink. It's the perfect expression of what I like. And it's great to have a beer in the fridge with my name on it."
Cosmic Brew will launch into retail and to the on-trade in January and will be available in 500ml bottle and 9g cask. A special preview of the beer will be available in selected pubs around Oldham and North Manchester in October.