Hogs Back Brewery launches Little Swine 0.5% for January
January 2023
New beer creates no and low 'family'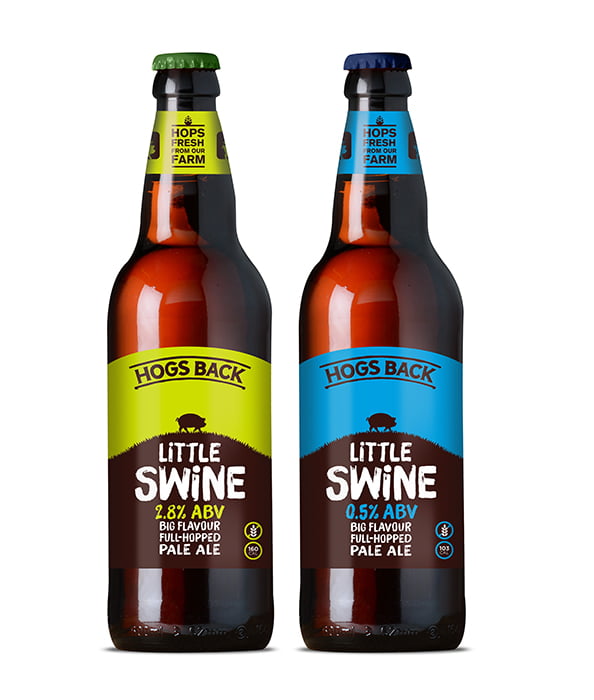 Surrey-based Hogs Back Brewery is launching Little Swine 0.5% to complement its existing Little Swine 2.8% low alcohol beer, creating a 'family' of no and low alcohol beers in time for the peak in consumer demand during January. 
Little Swine 0.5% is being launched in a 330ml bottle and will be available in a 500ml bottle from the end of January. The existing Little Swine 2.8% is already available in both size bottles and is also going on draught this month. 
Little Swine 0.5% is a full-bodied, flavourful pale ale, brewed with four speciality malts and three hop varieties including aromatic Cascade from Hogs Back's own hop garden and dry hopped with Mosaic for a robust citrus finish.  The result is a crisp, smooth, well-balanced beer.
Hogs Back Brewery managing director Rupert Thompson said: "We're delighted to be building on the popularity of Little Swine by adding this 0.5% variant.
"The distinct branding for both the new 0.5% beer and existing 2.8% create a Little Swine family which is clearly part of the Hogs Back portfolio. This means that drinkers will trust the beers to deliver great taste while also being produced in keeping with our ethos of brewing sustainably and using local ingredients. Little Swine is brewed with our own home-grown hops and so has a lower carbon footprint – from field to firkin in a furlong, as we like to say.
He added: "The method we use to brew low and no alcohol beers* leaves more of the hop character in the brew as well as retaining a fuller, more complete mouth feel. It's lower-tech and less interventionist than mass-produced low and no beers, and we think consumers will appreciate this more natural approach."
Both the 0.5% and 2.8% beers are gluten free, which is clearly communicated on labels alongside the beers' calorie content. The beers have an RRP of £1.85 for the 330ml bottle and £2.40 for the 500ml bottle.
Little Swine 0.5% bottles mirror the design for the 2.8% beer, with a blue label replacing the green.  The iconic Hogs Back hog has been reduced in size to reflect the beer's name and the neck label declares 'Hops Fresh From Our Farm', clearly communicating the beer's unique provenance.
*Hogs Back uses a stopped fermentation brewing method to produce its low alchol beers, in contrast with the less gentle reverse osmosis or vacuum distillation processes used by larger global brewers.