Fireball Friday
December 2015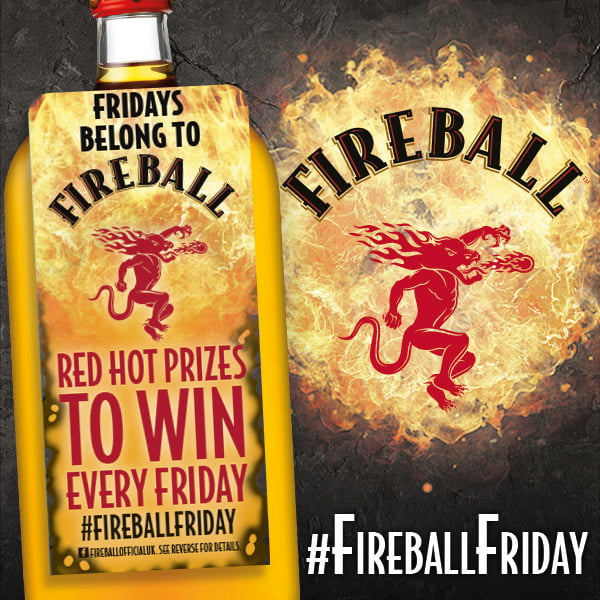 Fireball has launched a campaign to get the weekend off to a scorching start with the chance for consumers to win prizes every Fireball Friday.
The fast-growing cinnamon liqueur is inviting consumers to post Instagram pictures showing how they enjoy Fireball on a Friday. By following FireballUK on Instagram and using the hashtag #FireballFriday, consumers are entered into a digital raffle.
Weekly prizes will include iPods, festival tickets, headphones, speakers, and other giveaways, with a winner selected every Friday until April 2016.
Dan Bolton, managing director of Fireball distributor Hi-Spirits, said: "Fireball is part of 'the weekend starts here' ritual for many consumers, enjoyed as a chilled shot and in mixed drinks. We're celebrating that with our Fireball Friday giveaways by inviting our consumers to show us how they kick off the weekend with Fireball."
Fireball will also have a presence at a series of party nights at venues around the UK. Starring on Friday 13 November, the custom-built Fireball Dive Bar will be on tour, with the Fireball team on hand to offer sampling, raffles and giveaways.  Details of dates on the tour are online at  www.fireballuk.com/fireballevents/
Figures for global spirit sales collated by IWSR show that Fireball is the world's fastest growing liqueur brand, and it is now ranked at number 10 in IWSR World Class Brands listings, based on international sales volumes.  The ranking reflects global growth for Fireball from just over 2m cases in 2013, to more than 4.2m cases in 2014.
For more information, contact Hi-Spirits on 01932 252 100, email info@hi-spirits.com or see www.hi-spirits.com.