Guest blog: Rupert Thompson, managing director and owner, Hogs Back Brewery
At the time of writing, we have no firm idea of when the Covid-19 lockdown might be lifted, for the nation in general or for pubs – though it looks as though hospitality will be one of the last industries to reopen.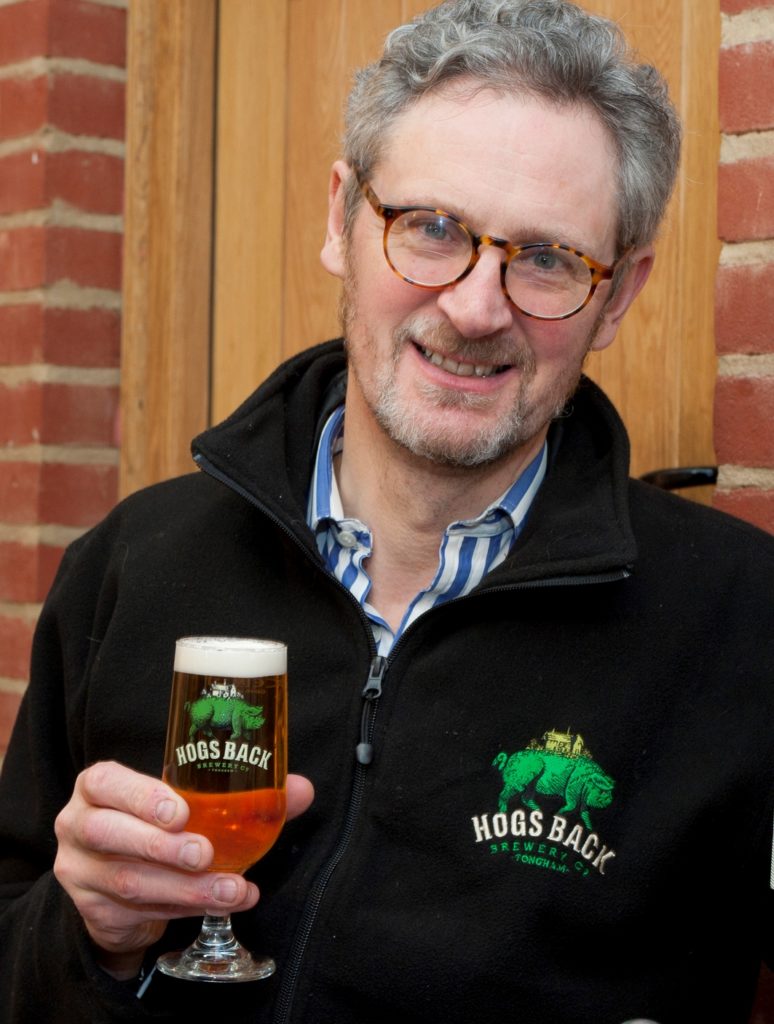 Planning for reopening is therefore challenging to say the least. We will need to make a number of fundamental changes to the way we run pubs, at least in the short term, and the sooner we can come up with some creative solutions, the better prepared we'll be when we can finally reopen the doors to crowds of thirsty customers.
And I think we can be confident of an early rush back to the pub; according to a recent Kantar poll, 56% of people are looking forward to visiting a pub or restaurant, putting it third after seeing family and friends again. The real question is what happens after that post-pandemic euphoria, and I think we have to be prepared for a significant drop in pub trade.
People's drinking habits have changed already and will change further as we remain in lockdown. Everyone's enjoying Friday night drinks with friends via Zoom, or pub quizzes on Facebook Live, and who's to say they'll replace all these virtual activities with real ones the minute pubs reopen? New habits develop, and some may stick.
Partly, it's about money: many people have experienced drops in income, or are feeling nervous about their financial future, so discretionary spending like pub trips will be under pressure. There's also going to be nervousness about going out, particularly among older people or those with health problems. Will they really fancy a pint enough to put their health on the line?
Put these factors together, and I think we are looking at a much-reduced pub market in the short term. Every year, the on-trade cedes a percentage or two to the off-trade and the pandemic will accelerate this. A 5% shift towards off-sales wouldn't be surprising – and once lost, it won't be recovered.
Of course, some pubs will be impacted more than others. Large, city centre pubs who rely on crowds of drinkers will suffer, and some small pubs who were barely viable will have been tipped over the edge. However, some pubs in tourist destinations could do well as people choose to 'staycation' rather than risk travel abroad.
Changes in working patterns will also affect pub visits. With more homeworking, pubs in city centres will lose their after-work drinkers, but suburban or rural pubs should gain custom from stir-crazy homeworkers enjoying a pint or a pie in their local. Pubs who have geared up to offer takeaways or home deliveries should be able to continue this in the long term, as a percentage of customers will have discovered they prefer their Sunday pub roast at home.
Despite silver linings for some, there's no doubt that pubs are going to have a hard time and to survive, they'll need to push down on their overheads – particularly rent and rates. The Government's Covid-19 rates holiday is a tacit admission that rates are a heavy burden, and will hopefully lead to an overhaul of the current unfair system. At the same time, commercial landlords will have to accept much lower yields – possibly as much as 50% of what they have been receiving – for the next 2-3 years.
If social distancing measures are imposed, it will change the very nature of the pub, as a place where people gather to socialise with friends, family, or fellow sports fans. Whether British pubgoers will adapt to drinking at in their own marked-out area at the bar or an isolated table remains to be seen.
Food service in pubs is likely to change from table service to collection at a counter, to remove the interaction – and cost – of a waiter. Table ordering apps will become more widely used, along with booking systems with tight windows, while simplified menus could be introduced to allow kitchen teams to keep within defined work areas. Pub gardens will be very popular and licensees should make the most of these assets with more seating – subject to social distancing – lighting and weather-proofing for year-round use.
Like everyone who works in, and loves, the pub industry, I will of course be hoping that much of my more pessimistic crystal ball gazing proves to be just that, and that the great British pub does what it's done for centuries and evolves to stay firmly at the heart of people's lives, while providing a rewarding livelihood for thousands of licensees and their teams. We should all raise a pint to that!
Rupert Thompson is managing director and owner of Hogs Back Brewery in Surrey, brewers of TEA, or Traditional English Ale, one of the leading cask ales in the south east. He previously worked for Bass and Morland, and set up Refresh which brewed Ushers, Lowenbrau, Wychwood, Brakspear and Duchy Original beers. A CAMRA member for more than 20 years, Rupert was one of the original founders of both Cask Marque and the Beer Academy. This column first appeared in the June 2020 issue of What's Brewing.