Rebrand and Expand: Brakspear launches Honeycomb Houses
November 2021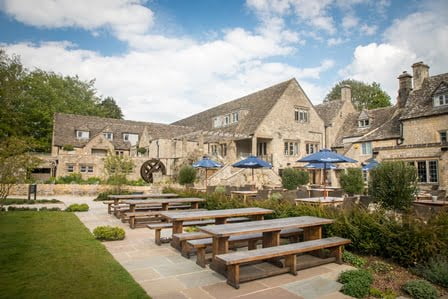 Pub operator and brewer Brakspear is launching a new identity for its nine-strong managed estate, now renamed Honeycomb Houses, while also planning to expand the division through acquisitions.
Underpinning the Honeycomb Houses branding is a new ethos, 'Our House, Your Home', which informs every aspect of the pubs' operation and will be brought to life by the division's 230 team members. The Brakspear name will still appear on pub buildings, while the new Honeycomb Houses identity – a honeycomb cell with the bee symbol of the parent company – appears on other exterior and interior signage, menus and team uniforms.
At the same time, Brakspear has refocused the criteria for its managed estate and is actively looking for new pubs that meet the brief: larger sites in rural locations and market towns in the south east and Cotswolds, with a strong food trade, event space and ideally bedrooms.
In redefining the Honeycomb Houses positioning, Brakspear has identified three pubs, described as 'community locals', which will transfer into its tenanted business: The Retreat in Staines, The Dog & Duck in Wokingham and the Golden Ball near Maidenhead. Tenants are being sought for all three pubs.
Tom Davies, Brakspear chief executive said: "Honeycomb Houses is a strong identity which brings our managed pubs together, while retaining the links to Brakspear as a family-run business, steeped in centuries of brewing and pub tradition.
"We've had nothing but positive responses from guests and from the pub teams, who will be living and breathing the 'Our House, Your Home' ethos and turning it into memorable guest experiences."
He added: "In designing the Honeycomb Houses identity, we had to define what the brand stood for, and it became evident that three pubs weren't a perfect fit for the new proposition. Going forward, we are completely clear about the type of pub we want in Honeycomb Houses and have ambitions to expand through acquisition – with the funds ready to buy the right sites."
Of the three pubs transferring to tenancy, Davies said: "These are all fantastic pubs, possibly some of the best tenanted sites currently available. This calibre of pub doesn't come on the market often and we're confident that, in the hands of the right operator, they will become some of the most successful sites in our tenanted estate."
'Our House, Your Home'
Brakspear retail marketing manager Jacqueline Fletcher said: "'Our House, Your Home' is a simple but powerful way to express what Honeycomb Houses is all about, to our teams and our guests.
"We encourage our team members to 'treat colleagues as family, guests as friends and pubs like home'. If they host guests in the same way that they would treat friends at home, they'll deliver the service we want at Honeycomb Houses: relaxed, attentive and personal to each guest, creating a 'home from home' atmosphere in our pubs."
Food, drink and added touches
Honeycomb Houses offers food for all occasions, from bar snacks to special occasion meals and everything in between. The emphasis is on quality, seasonal ingredients and local provenance, while menus are tailored to each pub: several have wood-fired pizza ovens, while the flagship site The Frogmill near Cheltenham uses a Josper oven and an American smoker.
The drinks menu includes a wide range of wines, draught and bottled beers, including Brakspear's popular Gravity, Oxford Gold and seasonal ales. Gins are a speciality, with up to 20 brands on offer and a Bees Knees – gin, lemon and honey – as the Signature Cocktail.
Brakspear's managed division was founded in 2013 with the opening of The Bull on Bell Street in Henley-on-Thames. The latest purchase, in March 2020, was the Egypt Mill, a pub restaurant with rooms and a weddings business near Stroud, and the estate now numbers nine sites dotted across the Cotswolds and south east.
To view the Honeycomb Houses website: www.honeycombhouses.co.uk