New Listings For Fropical Ferret
April 2022
Fruity IPA from Badger Beers Targets Summer Sales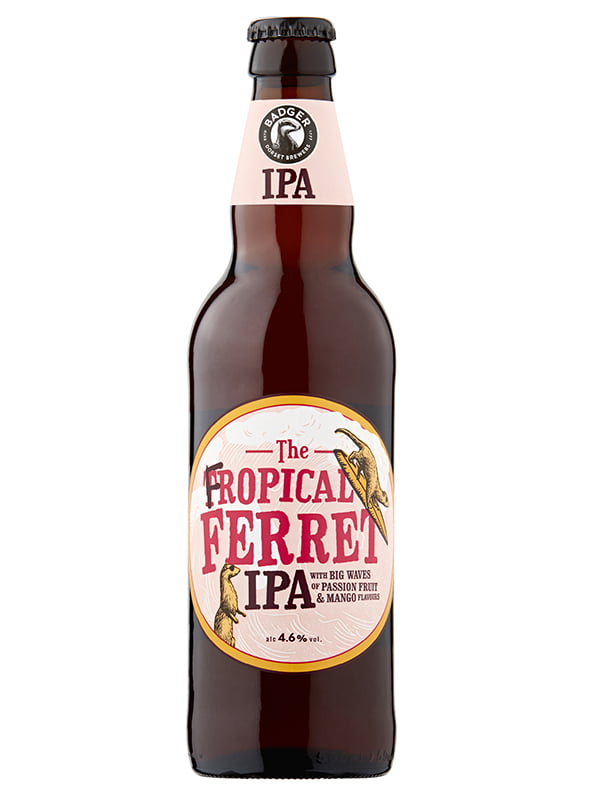 Fruity IPA from Badger Beers Targets Summer Sales
Fropical Ferret, the light and hoppy ale from Badger Beers, is expanding its distribution in the grocery sector, with new multiple retailer listings as the brand's peak summer sales season looms.
The 4.6% ABV fruity IPA will be available in more than 220 Tesco stores from May, as well as in 200 Asda stores from the start of June. Fropical Ferret is already sold in close to 400 Sainsbury's, Waitrose and Morrisons stores, as well as through Ocado.
Matt Woodhouse, Drinks Marketing Manager at Badger Beers said: "Fropical Ferret tastes great when served chilled, so although it's a great year-round beer, it really comes into own in warm weather.
"We're delighted to have secured additional listings with leading supermarkets for Fropical Ferret in time for summer. Enjoyed relaxing in the garden or matched with a burger from the BBQ, our fruity Dorset IPA delivers wonderful tropical flavour notes when served from the fridge.
"Many younger beer drinkers prefer lighter, hoppy chilled IPAs to a standard lager when the sun shines. Our brewing team have crafted an ale that meets today's market trends, while still appealing to Badger loyalists who appreciate the full-flavoured traditions of a distinctive ale from Dorset's traditional family brewer.
"Sales of Fropical Ferret were strong following its launch last spring. It quickly became one of last year's Top 5 and fastest growing product launches in the Premium Bottled Ales category*. With wider distribution than ever, we're expecting even higher demand this summer."
Fropical Ferret is a fruity IPA, bursting with tropical passion fruit and mango flavours, combined with American Amarillo and Centennial hop notes. It has an RRP of £1.80 for a 500ml bottle.
*Nielsen value sales MAT Premium Bottled Ales NPD to 26 March 2022