Mr Fitz Aqua Spritz adds premium mixer varieties
February 2020
Profit and sustainability boost using dispensed concentrates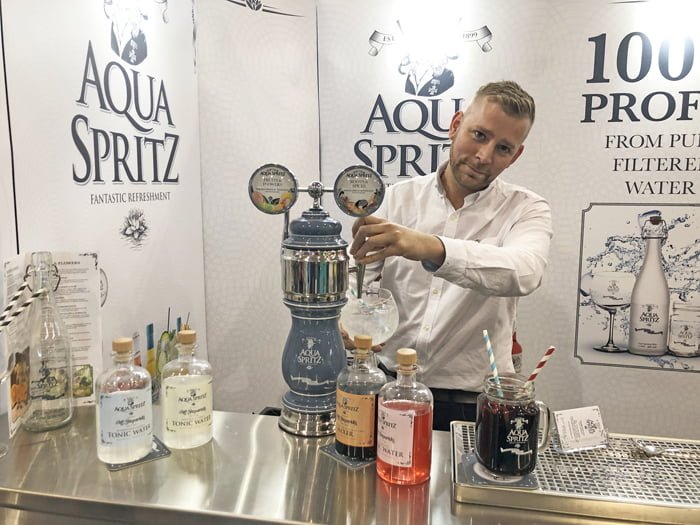 Dispensed soft drinks specialist Mr Fitz Aqua Spritz is throwing a lifeline to operators struggling with packed bottle fridges and overflowing recycling bins, with the launch of four premium mixer varieties.
Three tonic waters, along with a ginger-based dark spirits mixer, are being added to the choice of concentrates in the Mr Fitz Aqua Spritz range. Each of the four new flavours – Aromatic Tonic; Mediterranean Tonic; Indian Citrus Tonic; and Ginger Beer, Orange & Nutmeg – is made with premium ingredients to an exclusive recipe formulated to mix perfectly with spirits.
Served using pure filtered sparkling mains water from the brand's distinctive bar-top fount, the mixers boost both profitability and sustainability for hospitality businesses by eliminating the need for single serve glass bottles. Each bottle of concentrate can be used to serve 20 or more spirit-and-mixer drinks or cocktails, removing many thousands of bottles annually from a venue's recycling costs.
Mark Fenton, head of brand for Mr Fitz Aqua Spritz, said: "The addition of premium mixers to our existing range of soft drink concentrates makes the business and environmental case for operators to switch to dispense even more compelling.
"The boom in sales of spirits and cocktails over recent years means pubs, bars, hotels and restaurants now send millions of single use mixer bottles to recycling every year, which has implications for both costs and sustainability.
"The Mr Fitz Aqua Spritz system is backed by the proven dispense expertise of Brewfitt. By switching dispense to pure filtered still and sparkling water, soft drinks and now mixers, operators can achieve market-leading GPs, as well as removing single-use glass bottles from the supply chain."
For more information see www.mrfitzaquaspritz.com