Milk Made Stout is Udderly Triumphant
November 2021
International Brewing Awards Gold for Hall & Woodhouse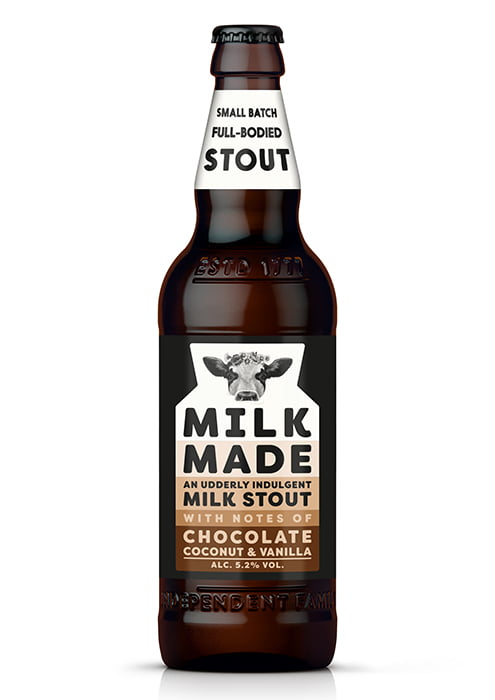 The return to the 'dark side' for Dorset independent family brewer Hall & Woodhouse has been rewarded, with a Gold Medal for its innovative Milk Made Stout in the prestigious International Brewing Awards (IBA).
Milk Made, a 5.2% ABV bottled milk stout with layers of Chocolate, Vanilla and Coconut, won Gold in the Speciality Beer class recognising beers with special features – in Milk Made's case, the complex and indulgent added flavours.
Launched in 2020, Milk Made is one of several new, contemporary beers created under Hall & Woodhouse's ambitious NPD programme to complement the core Badger Beers brand. There were also IBA accolades for two Badger cask ales, with a Gold for Badger Red Roaster and a Silver for Badger Fursty Ferret.
Drinks Marketing Manager Matt Woodhouse said: "Milk Made is the first dark beer we've brewed in Blandford for some years. We think it's 'udderly' delicious, but it's great to have that confirmed by the expert IBA judges. We have hugely experienced and talented brewing teams working on all our beers, and, of course, it's equally gratifying for the IBA to recognise the quality and craft of our cask range.
"It's an exciting time for Hall & Woodhouse, as we continue to develop new and innovative craft beers that complement our established strength as a brewer of fine traditional bottled and cask ales.
"We have exciting NPD plans for 2022, to appeal to new and existing Badger Beers drinkers, and it's great to be going into a busy new year with these prestigious awards under our belt."
The International Brewing Awards began in 1888, and are judged entirely by practising brewers. A medal is recognition by fellow professionals that a beer is an outstanding commercial example of its style.
Milk Made Stout is available exclusively through the Badger Direct online store, or at the Hall & Woodhouse Brewery Shop in Blandford, Dorset. It is packaged in 500ml bottles and sold in cases of six (£17.00) or 12 (£32.50).