Hogs Back launches 'Pub at Home' and extends home delivery in time for Father's Day
June 2020
Just add the family on Zoom! Hogs Back helps dads celebrate special day with pint at home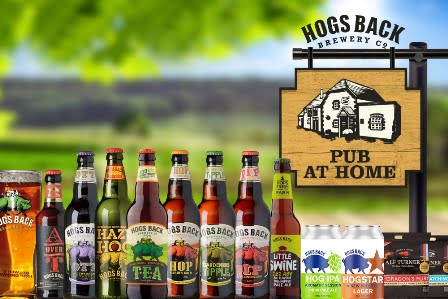 Ahead of Father's Day, Surrey based Hogs Back Brewery is offering a new 'Pub at Home' pack available for home delivery, drive through or click and collect from the brewery. At the same time, the brewer is expanding its home delivery service to include 12 new postcodes in north Surrey, and adding a selection of guest beers from UK craft brewers.
The Pub at Home pack contains everything needed to celebrate dad's special day at home. As well as 16 bottles or cans of Hogs Back's beers including TEA (Traditional English Ale), Hog IPA – now in cans – and Hogstar lager, the kit contains a Hogs Back pint glass, two packs of pork scratchings from local butcher Alf Turner and beer mats. All that's needed is the family on Zoom!
The Pub at Home pack is available from the brewery, either as click and collect or drive through, or on home delivery, which is now adding a number of addresses in north Surrey, including Epsom, Esher, Chertsey and Weybridge.  Hogs Back's Home Delivery service brings their brewery-fresh beer as well as bottles, cans, and a selection of locally-sourced fresh meat and bread into customers' homes.
At the same time, Hogs Back has also added a handful of guest beers to the range available for home delivery.  The first additions are Siren's Soundwave IPA, Padstow Brewing Co's IPA, a selection pack of four styles from Gypsy Hill Brewing Co, as well as Thatchers Gold and new Cloudy Lemon cider. Hogs Back plans to add more brewers to the list in coming weeks, to supplement the extensive range of British and international beers available from its drive through service at the brewery.
Hogs Back Brewery owner Rupert Thompson said: "For many of our loyal customers, Father's Day means a pint of TEA in their local pub, often followed by a lunch with the family.
"Although we can't quite recreate that unique pub experience, we hope our Pub at Home pack will come close to it and ensure that dads are able to enjoy their special day with a pint or two of their favourite beer.
He added, "Our Home Delivery service has been a huge success, with our brewery-fresh beer in particular getting a big thumbs up from beer lovers who are missing a pint in the pub during lockdown. So we're delighted to be extending the service into new areas where we're sure there will be strong demand."
Since lockdown, Hogs Back's Home Delivery service has made around 4,000 deliveries of beer to homes within approximately 15 miles of the brewery.  Total sales via the website for delivery or click and collect from the brewery from lockdown (23 March) to now are around 60 times higher than for the same period in 2019.
The new postcodes added to the Home Delivery service are: KT8, KT10, KT11, KT12, KT13, KT15, KT16, KT17, KT18, KT19, KT20 or KT22. The postcodes already qualifying for Home Delivery are: GU1 to GU24, or starting with GU34, GU35, GU46, GU47, GU51, GU52, GU95 or RG27, RG29
Hogs Back's Home Delivery service
In addition to a range of draught, bottled and canned beers, the Home Delivery service includes the following food and wines.
Fresh meat pack from Alf Turner, the award-winning butcher based in Aldershot, containing four steak burgers, traditional pork sausages, back bacon, diced chicken breast, diced steak and steak mince.
Fresh bread basket from Good Taste bakery in Tongham, containing loaves of white and multi-seed bread, wholemeal and white rolls and a sweet tray bake.
A range of wines sourced through Nectar Imports, including two whites, two reds, a blush and a sparkling white.