Hogs Back Brewery pledges free beer for Euros success
June 2021
Three Hogs giveaway if England reach final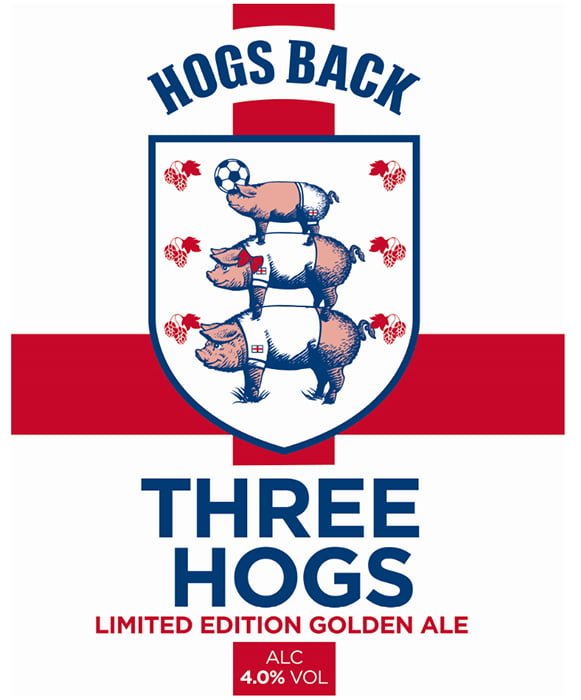 Surrey-based Hogs Back Brewery is offering drinkers a free pint of Three Hogs, its beer specially brewed for the Euros, if the England squad lift the nation's spirits by reaching the tournament final in July.
Three Hogs was brewed as a draught beer for the Euros in 2016 and the World Cup in 2018, and this year is being made available in 330ml bottles as well. Last month, Hogs Back followed the Football Association's lead by launching a new 'inclusive' limited-edition badge for the beer, with a hog, sow and piglet mirroring the 'lion family' featured on the England badge.
A 4% ABV golden ale, Three Hogs is brewed with a selection of English malts and hops including Fuggles grown on the Hogs Back hop garden next to the brewery, as well as Cascade and Centennial. The pump clip and bottle label describe the ale as "a beer of two halves: refreshingly hoppy up front, followed by a balancing bitterness and a hint of sweetness to finish".
Hogs Back Brewery managing director Rupert Thompson said: "Every international tournament raises hopes that football might 'come home', and this time, with many of the same players from 2018's stunning World Cup run, and matches on home soil, the dreams of millions of England fans may finally come true.
"We offered a free pint of Three Hogs if England reached the final in 2016, when the squad came home after the first round of the Euros, and then again for the World Cup in 2018, when they reached the semi-finals. So we're making the offer again, in the hope that the progression continues and sees Kane and his team through to the final.
"No brewer likes to give away beer, but we'll be happy to do so if it means England are in with a chance of Euros glory. After a terrible year for pubs and beer, the tournament is a great boost for pubs, especially if England enjoy a good run. We'll be showing all the home team matches on big screens in our Brewery Tap and hope there will be many celebrations, with a pint of Three Hogs in hand!"
If Southgate's squad makes the final, Hogs Back is offering a free, freshly poured, takeaway draught pint of Three Hogs, or other draught ale depending on availability, to any customer who visits the Brewery Shop in Tongham on Saturday 10 July to stock up for the big match on the Sunday.
All England matches are being screened in the Hogs Back Brewery Tap, where fans can watch the game with a pint of freshly-brewed beer and a wood-fired pizza. Tables for up to six people can be booked on the website.