Hogs Back Brewery gears up for reopening
April 2021
Local musicians to play Brewery Tap from May onwards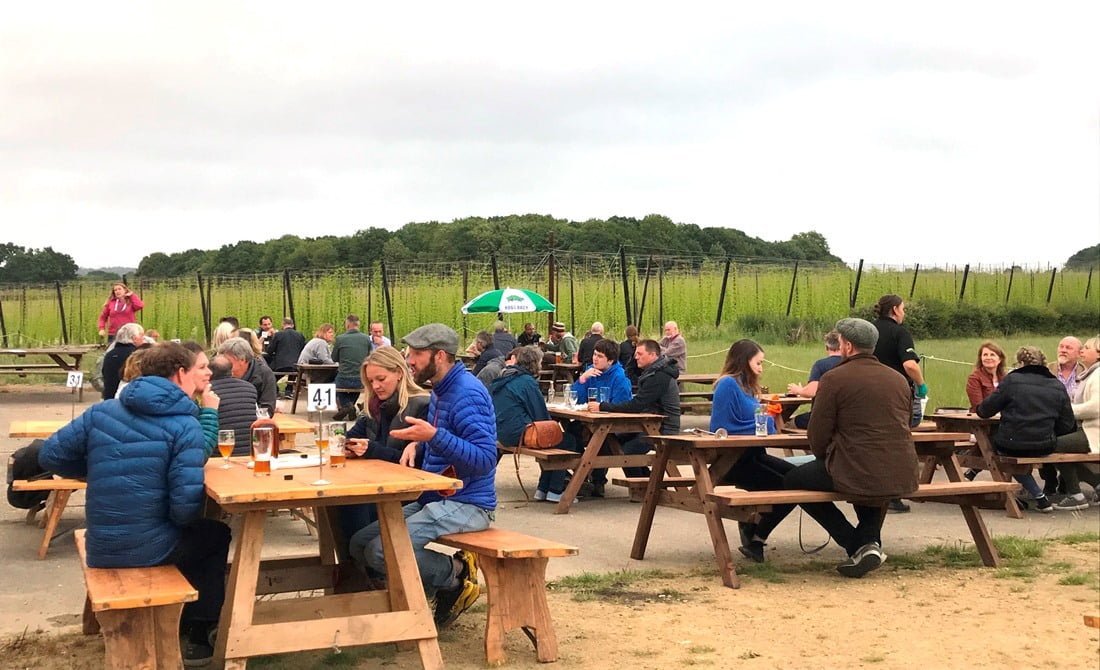 Hogs Back Brewery in Tongham is reopening its doors on 12th April, offering guests the chance to enjoy brewery-fresh beer, delicious locally-produced food and, from May onwards, an extensive programme of live entertainment showcasing local talent and nationally-known acts.
The Hogs Back Tap Garden outdoor space reopens on 12th April, with 40 outdoor tables overlooking the hop garden. Groups of up to six people can reserve a table, which costs £14.00 and includes a 3.5-pint Snorter – glass flagon – of any beer or cider available on draught in the bar.
Guests can also enjoy made-to-order stone baked pizzas made by Hogs Back on the new pizza oven they've installed in the bar. Opening hours will be from 5.00-10.30 pm on Thursdays and Fridays, from midday to 10.30 on Saturdays and from midday to 5.00 pm on Sundays.
From 20th May, when the indoor Hogs Back Tap reopens, guests can enjoy regular live music and comedy, providing a much-needed platform for performers who have been badly hit by the closure of pubs and entertainment venues during lockdown.
Acts already booked include blues/folk musician Grizzly, performing on reopening night and comedian Reginald D Hunter on 27 May. Later in the year, the bar will host Sean Lakeman & Kathryn Roberts and Martin Harley, as well as a number of local bands: previous popular acts have included The Farleys, TR5s and The Frets. Some Sunday afternoons are being set aside as an 'open mic' session for local acts and the space will also be used to screen films on Sunday afternoons and live sport including this summer's Euro football tournament.
Hogs Back managing director Rupert Thompson said: "We're thrilled to be reopening our bar, which we had only just finished building before the lockdown last November. Judging by the level of bookings, local customers are equally thrilled, and very ready for a pint outside the home after months of lockdown.
"We think our outdoor area is the perfect spot for a first post-lockdown drink; spacious, completely Covid-compliant and with views of our beautiful hop garden, and we are looking forward to welcoming old friends and new visitors, and to be offering a stage to a range of performers."
With the relaxation of lockdown, Hogs Back will also be restarting its tours. Hop Garden tours start on 20th May and tours of the brewery on 25th June, both offering a guided tour by a Hogs Back expert, and tasting of a selection of beers. Looking further ahead, tickets to the Hop Harvest Party on 18 September are now on sale and Hogs Back is planning a bumper celebration of beer, food and music to make up for missing 2020!
For details of all upcoming events and to book a table our tour, visit the Hogs Back website.