Counting down to Christmas with Hogs Back Brewery
November 2021
New Advent Calendar offers selection of British beers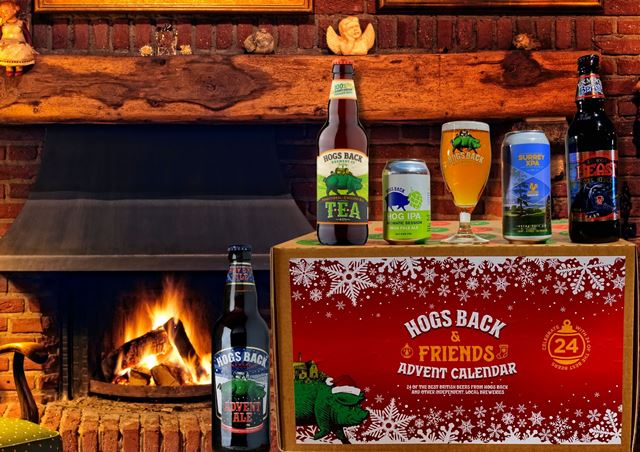 Counting down to Christmas just got a lot more fun, thanks to a new Advent Calendar launched by Surrey-based Hogs Back Brewery.
The Hogs Back & Friends Advent Calendar contains 24 bottles and cans, giving beer-lovers a different brew to enjoy every day in December.  As well as Hogs Back favourites such as TEA (Traditional English Ale), Hogstar lager and Surrey Nirvana Session IPA, the calendar contains a number of beers from Hogs Back's 'friends' – like-minded, independent brewers across the south of England, such as Padstow Brewing Company, Siren Craft Brew and Hook Norton Brewery.
The Advent Calendar has been carefully curated by the Hogs Back team to provide a range of beer styles from modern craft IPAs to traditional ales and festive dark beers, including Hogs Back's A Over T, a warming barley wine with delicious Christmassy flavours, which is currently CAMRA's Champion Bottled Beer of Britain.
The beers are presented in a box with 24 numbered windows and a Hogs Back stemmed glass, and can be ordered now via the online store or from the Brewery Shop in Tongham near Farnham, at a cost of £70.
Hogs Back managing director Rupert Thompson said: "December can be a busy and sometimes stressful month, so we think beer-lovers will appreciate some quiet time each day enjoying their surprise from the Advent Calendar.
"It's been a lot of fun putting together this selection of beers and we're confident it offers enough variety to please all beer fans, and will introduce them to some new favourites. We're also happy to be supporting other local independent brewers and giving them a route to find new customers."
He added: "Some of our regular customers have been wondering whether to buy our Advent Calendar, or a traditional chocolate one. To which we of course say, buy both!  Beer and chocolate are one of the finest beer and food pairings, and we think everyone deserves two treats this year after the many months of lockdown and other challenges!"
All the Hogs Back beers included in the Advent Calendar, and many of those from other brewers, are available in the Hogs Back Brewery Shop, which is stocking up now for Christmas. It offers an extensive selection of craft beers from across the world, as well as a range of gift packs, knowledgeable staff on hand to offer advice and free parking just outside, making it the perfect 'one stop shop' for festive beer buying. Opening hours will extend in the run up to Christmas, for details check the Hogs Back website