Brakspear's Honeycomb Houses management team 'takeover' at The Lion in Bicester
13 September 2023
Night out rewards pub colleagues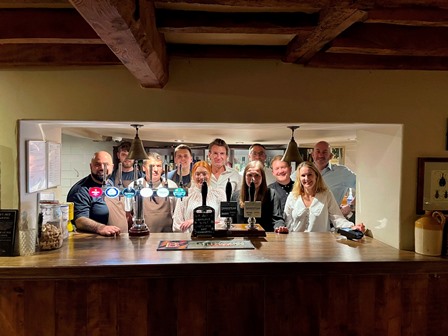 The team at The Lion in Wendlebury near Bicester swapped their aprons for party wear recently when a replacement crew from owner Brakspear's head office arrived to run the pub and give them a well-deserved night off.
While the HQ team of seven, including chief executive Tom Davies, poured pints for the pub's regulars, the permanent team enjoyed an all-expenses-paid night out on Honeycomb Houses – Brakspear's group of 10 managed pubs which includes The Lion –  before returning to the pub for a nightcap. The treat was a thank you from the Honeycomb Houses management to the team at The Lion for their hard work over the last six months, and a welcome to new general manager Theo Benson.
As well as delicious food and drink, The Lion serves up live music monthly on a Friday and is active in the local community, in particular through its fundraising for Bicester charity Nais House, which supports young people with mental health issues.
Benson said: "It was great to leave the pub for an evening and enjoy time together as a whole team. At Honeycomb Houses, our approach is to 'treat colleagues as family, guests as friends', so as a relatively new addition, I need to know what makes my new 'family' tick – their favourite drinks, the music they love. A fun night out was a brilliant way to kick start that process, and we all got to know each other a bit better.
"The team have had a pretty tough few months as, like so many pubs and restaurants, The Lion has faced challenges around recruitment and the cost of living. So to have their hard work recognised and rewarded by the Honeycomb Houses head office was a real boost to team morale. And I think we all enjoyed putting our chief exec and finance director through their paces with our drinks orders at the end of their shift!"
Davies said: "We all enjoyed our night back at the sharp end of our business and it was certainly a good reminder of how hard our pub-based colleagues work – I think we all needed a foot spa afterwards! The team at The Lion make serving food and drink look easy, but it requires real attention to detail and dedication to give every guest a great time.
"We're delighted that Theo has joined The Lion and look forward to seeing pub go from strength to strength as he helps his brilliant team continue to strive for excellence."
The Lion started supporting Nais House this summer. So far it has raised over £200 for the charity and has plans to stage further fundraising activities in future.
The Lion, on Wendlebury Road, is open from 8.00 am – 11.00 pm every day apart from Sunday when it closes at 10.00 pm. It serves breakfast, lunch and dinner, with a new autumn/winter menu boasting delicious, seasonal dishes, coming out in October. The Lion's Christmas menus are already available to view and bookings are being taken on their website, including for their five-course Christmas Day feast.
At the same time, the newly-launched drinks list offers everything from Brakspear cask ales to a carefully curated wine list, a long list of gins and other spirits, and selected cocktails including the pub's Signature Bloody Mary. There are also 13 boutique hotel style bedrooms for visitors wanting to stay the night.
Caption to  image: The Honeycomb Houses team at The Lion. Back row l-r: Charlie Wheeler and Dan Holloway, chefs from The Bull in Henley-on-Thames; Brakspear chief executive Tom Davies; finance director David Nathan; interim operations director John Gormally. Front row l-r: head of food Ken Umasanthiram; Gheorghe Vasiliu from The Bull; Honeycomb Houses graduate trainee Zoe Barrett; finance manager Vicky Manning; training manager Gareth Jones; head of people Simone Brown