Beer Hawk FRESH to distribute Fix8 Kombucha
January 2020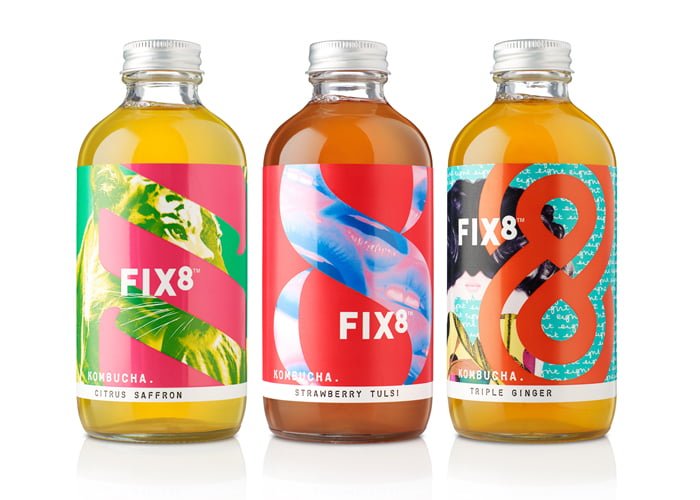 Beer Hawk FRESH is expanding its range of premium drinks with the addition of the Fix8 Kombucha range to its chilled supply chain.
The distribution partnership between Beer Hawk FRESH and Fix8 means that bars and retailers can now order freshly-fermented kombucha from a refrigerated warehouse to be delivered in top quality, chilled condition, in both bottle and keg.
Like the full range of drinks available from Beer Hawk FRESH, the three-flavour Fix8 range will be available same-day to London customers, and for next-day delivery across the UK.
Andrew Morgan, Head of Beer Hawk FRESH, said: "The Fix8 range complements the expanding choice of brewery-fresh beers we distribute, and further demonstrates the benefits of our partnership approach to working with craft drinks producers.
"With consumers increasingly expecting to be offered a broad range of premium drinks in prime condition, we're delighted to be expanding our offer to on-trade and off-trade retailers with the addition of the Fix8 range. For operators looking for a premium non-alcoholic offering to engage customer interest, which is important during Dry January and increasingly all year round, it enhances the choice of brands we offer."
Freya Twigden, founder of Fix8, said: "Freshly-fermented kombucha must be stored chilled, otherwise it is overly-filtered and void of bacteria and yeast – essentially it becomes a 'dead' kombucha. It has been a challenge to find cold-chain distribution for the on-trade in particular, as most wholesalers only offer ambient distribution.
"Authentically brewed kombucha, which must be stored chilled if it contains the live bacteria and yeast, is more flavoursome. While some kombucha producers sterile-filter their product, that's allowing the shortcomings of the supply chain to dictate product quality, and we were stubborn enough not to compromise.
"We've worked hard to develop our range of unique flavours, as well as investing in the fermenting expertise and equipment to produce kombucha in ideal condition, and so it's important to know that it's reaching our customers, and ultimately consumers, in the same prime chilled condition.
"There's also a lot of crossover between craft beer and kombucha drinkers, depending on the occasion. Kombucha is a great craft non-alcoholic ferment, that retains complexity and flavour when you're having a night off, so we think our partnership with Beer Hawk FRESH has strong potential to develop."
Fix8 Kombucha is naturally fermented using wild yeast and bacteria at the company's south London "kombucha brewery", and is available in 240ml bottles, as well as 20 litre key kegs, in three favours:
• Triple Ginger – Three-dimensional flavour that combines kombucha character with exceptional spice.
• Strawberry Tulsi – Simple summery strawberry and aromatic holy basil, an irresistibly moreish combination for kombucha newbies and connoisseurs alike.
• Citrus Saffron – Cold pressed tangerine oil, orange blossom, cardamom + whole saffron. Sophisticated, vibrant and unusually uplifting.
Beer Hawk FRESH is part of ZX Ventures, the global growth and innovation group of AB InBev, and operates a chilled supply chain, supplying brewery-fresh beer from its refrigerated warehouse in Central London.
Retailers can sign up for the service at https://fresh.beerhawk.co.uk or contact info@beerhawk.co.uk