Badger expands Outland craft beer range, wins top design award
September 2023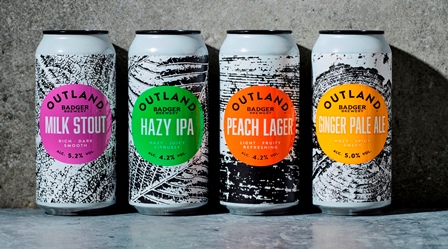 Leading independent brewer Badger Beers has reshaped its Outland craft beer range, adding two new styles in response to flavour trends in the craft sector. Outland has also been named as Supreme Champion in the 2023 International Beer Challenge Design & Packaging Awards.
The new beers are a Peach Lager and a Hazy IPA, both at 4.2% ABV and packaged in 440ml cans. They join Outland Milk Stout and Ginger Pale Ale, launched in April, to create a range with interesting, contemporary flavours that appeal to craft beer lovers as well as more mainstream drinkers looking for something different to their usual brew. An Outland West Coast IPA is available on draught exclusively in Hall & Woodhouse pubs.
Giles Mountford, drinks marketing manager at Badger Beers, said: "Outland is all about doing things differently and exploring new flavours, so we're constantly looking at where the craft beer market is going and how the brand fits with that.
"We've added two flavours that are popular now and we're working on a pipeline for new styles in future – it's a fluid, changing line-up which we know is what craft beer drinkers want. Future additions will be led by craft trends, but remain accessible to light or occasional craft drinkers, in line with our ambition for Outland to be a 'mainstream' craft brand, drawing drinkers of Premium Bottled Ales and lager into the craft sector."
Outland was launched in April 2023, the first craft beers from Badger Beers and designed to complement the brewer's highly successful range of Premium Bottled Ales. The launch of Outland – and a subsequent redesign of the PBA range in July – followed an all-encompassing review of Badger, which is now looking to build on its brewing tradition and roots in Dorset to become a more innovative, consumer-centric brewer, with greater appeal to the 21st century beer drinker.
The two new Outland beers will both have an RRP of £3.00 for a 440ml can. The Hazy IPA will be available in Waitrose, while the Peach Lager will be available exclusively through the Badger Beers online shop.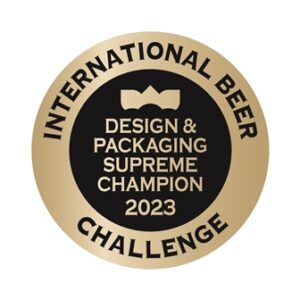 Award-winning design
At the same time, Outland has won the Supreme Champion title in the International Beer Challenge Design & Packaging Awards 2023. Its simple and eye-catching design was judged the very best in the competition, which attracts entries from brewers across the world.
Outland cans were designed to communicate strong craft cues, with an abstract black and white background lifted by a splash of vibrant colour for the 'Outland by Badger' branding and the beer name.   A three-word description of each style – such as 'Fruity, Light, Refreshing' for Peach Lager – appears in the central colour block on the front of cans, giving consumers clear flavour guidance.
Chair of judges for the IBC Design Awards, Toby Wilson, head of luxury at packaging manufacturer GPA, said: "Disruptive but reassuring – a tricky balance to strike but so successfully executed by Outland. The pack range appeals immediately with vivid colour and textural differentiation. It doesn't stop there, with considered flavour and pairing notes, the consumer is further immersed into the craft and passion so clearly applied to this range.
Outland tasting notes 
Peach Lager: 4.2% ABV. Fruity, Light and Refreshing, this fruit lager has bold peach notes that complement the zingy freshness of the Huell Melon and Hallertau Blanc hops. A light, golden, balanced beer.
Hazy IPA: 4.2% ABV. Citrussy, Hazy and Juicy. This IPA is light in colour, deep in flavour. Bold citrus and fruity tropical notes combine to create a refreshingly sessionable pale ale, brewed with Citra and Amarillo hops.
Ginger Pale Ale: 5% ABV. Hazy, Spicy and Sweet, the ginger takes centre stage in this naturally hazy pale ale, brewed with WGV and Goldings hops. Expect refreshing, balanced yet punchy flavours.
Milk Stout: 5.2% ABV. Rich, Dark and Smooth, this stout harbours indulgent flavours of cocoa, coconut and vanilla, along with dark, roasted malt and subtle hop notes, in a recipe that's earnt us three internationally recognised brewing awards.
For more information see www.badgerbeers.com/our-beers/