Badger Beers Toasts World Beer Awards Success
September 2022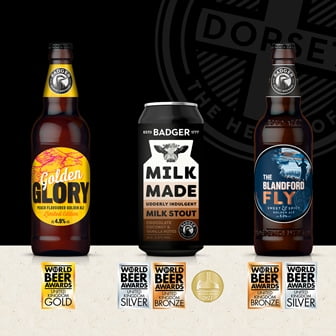 Dorset family brewer Badger Beers is celebrating a new round of awards success, with three of its beers winning medals at the World Beer Awards (WBA) 2022.
The WBA judges recognised both established ales and recent innovation from Badger, reflecting the brewery's strategy of offering high quality, premium beers with a broad consumer appeal.
Badger is also launching its award-winning Milk Made stout in keg this autumn, as well as bringing medal-winning cask conditioned winter ale Red Roaster back to its pubs as a seasonal cask beer.
WBA medals for Badger Beers went to:
Golden Glory, which appropriately won Gold in the Flavoured Beer, Fruit category. Golden Glory is a 4.5% ABV peach flavoured golden ale with refreshing fruity and flora notes. Available in 500ml bottles.
Milk Made, which won Silver in the Flavoured Stout & Porter category. Launched in 2020 as part of Badger's innovation programme. Milk Made is a 5.2% ABV stout with "udderly" delicious layers of chocolate, vanilla and coconut. Available in 500ml bottles and 440ml cans.
The Blandford Fly, awarded Bronze in the Flavoured Beer, Herb & Spice category. One of Badger's best-known beers, The Blandford Fly is a 5.2% sweet and spicy golden ale with a refreshingly different ginger taste, offset with hints of sweet toffee. Available in 500ml bottles.
Giles Mountford, Drinks Marketing Manager at Badger Beers said: "We're delighted with these latest accolades, which build on a series of awards for our beer range, notably in the International Brewing Awards 2021.
"We continue to develop new, contemporary, and innovative craft beers such a Milk Made, which complement our established strength as a brewer of fine traditional bottled and cask ales.
"Our brewing team has plenty more innovation in the pipeline, and so we're looking forward to having to install an even bigger trophy cabinet in the brewery at Blandford St Mary in due course."
Milk Made was one of two Badger beers which won gold medals at the International Brewing Awards, the world's oldest beer competition, held every two years. In the same competition, announced last autumn, Red Roaster, a rich, 5% ABV dark winter ale, also took a Gold medal in the Cask Conditioned Beer 4.9%-6.9% ABV category, and Fursty Ferret won a Silver medal in the Cask Conditioned Beer 3.9%-4.3% ABV category.