Paddy Whiskey offers London Irish prizes for St Patrick's Day
February 2019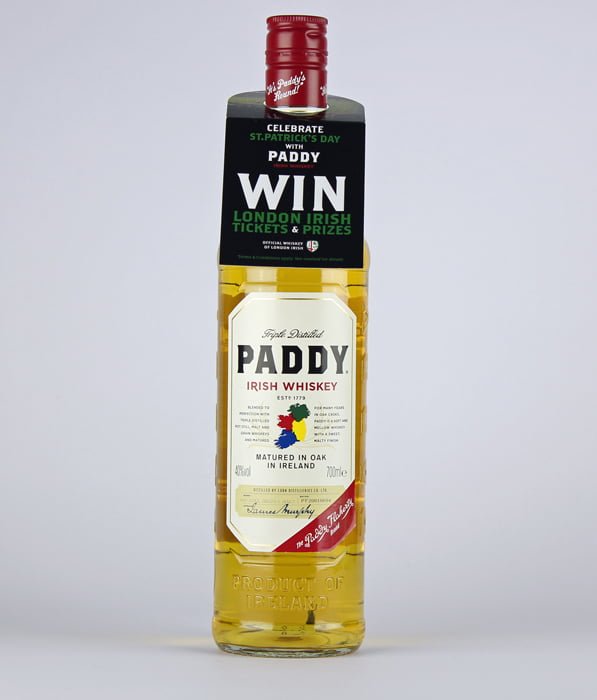 Paddy Irish Whiskey is launching a high profile neck-tag competition tied in to St Patrick's Day, with matchday tickets to London Irish Rugby Club fixtures up for grabs, as well as replica shirts, hats, mugs, hoodies and other London Irish merchandise.
The prize tags will be on 15,000 bottles of the iconic Irish whiskey. The Paddy promotion will feature on bottles sold in Tesco from the end of February, as well on Amazon and through independent retailers, with more than 100 prizes up for grabs in total. The promotion builds on the partnership which has seen Paddy become the Official Whiskey of London Irish for the 2018/19 season.
James Pattison, UK brand manager for Paddy with distributor Hi-Spirits, said, "Paddy is all about the craic and has strong links with St Patrick's Day celebrations. This promotion is a great way to build on the success of our partnership with London Irish, as well as to encourage consumers in Tesco and across the off-trade to toast St Paddy with a glass of his namesake whiskey."
The neck-tags feature a unique code which can be entered at www.winwithpaddy.co.uk. Match-winning codes can be redeemed for a pair of tickets to a choice of this season's Greene King IPA Championship clashes at London Irish's Madejski Stadium in Reading.
Paddy Irish Whiskey will also be at the heart of the London Irish's St Patrick's Day party, taking place after the match on Saturday 23 March. The event will feature live music and great food and drink, including a Paddy Whiskey bar offering samples, and serving Whiskey Gingers and Irish Coffees for guests.
Pattison added, "The great Paddy drinks we've been serving London Irish fans this season have been going down a storm, both on match-days at the Madejski Stadium and at the club's Hazelwood Centre in Sunbury, and we're looking forward to being at the heart of the St Patrick's Day party."
Brian Facer, London Irish CEO, said, "Paddy Irish Whiskey has quickly become a firm favourite here at London Irish and we're looking forward to welcoming winners of the neck-tag promotion on match days, and to Paddy being a part of our St Patrick's Party celebrations – always a highlight of our year!"
Paddy Irish Whiskey is 40% ABV and has an RRP of £20 for a 70cl bottle. For more information, please contact Hi-Spirits on 01932 252 100, email info@hi-spirits.com or visit www.hi-spirits.com.
ENDS
Notes to Editors:
• Blended with triple distilled pot still, malt and grain whiskeys and matured in oak casks, Paddy is a soft and mellow whiskey with a sweet, malty finish.
• Paddy owes its name to legendary distillery salesman Paddy Flaherty. Famed throughout his native county Cork for buying rounds of his favourite tipple, he became so synonymous with the whiskey he sold that in 1913 the distillery owners paid him the ultimate tribute by renaming the whiskey "Paddy" in his honour.